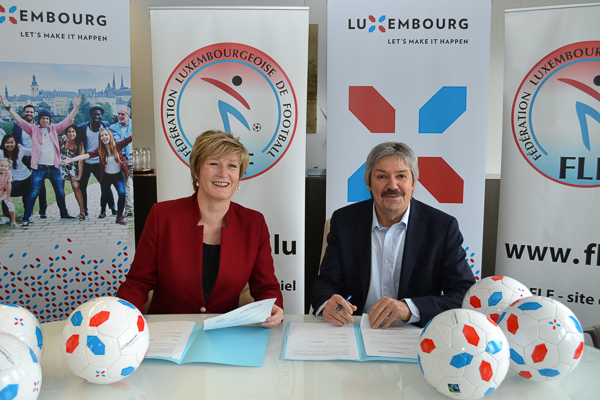 When the Luxembourg football team to the pitch against France for the World Cup qualifiers this weekend, they'll be doing a little more than flying their nation's colours. The Luxembourg football team is now officially a part of the country's brand, and their kit accordingly sport the national slogan, "Luxembourg, Let's Make it Happen", as part of a partnership struck up by Secretary of State for Economic Affairs, Francine Closener, and the President of the Luxembourg Football Federation (FLF), Paul Philipp.
The slogan will now appear on the team's official jerseys and training suits of the national team, on the tracksuits of the ball collectors as well as on the team bus.
"By bearing the colours of the signature of Luxembourg, FLF athletes subscribe to the values ​​of the country and contribute as ambassadors to its notoriety and visibility. Sport is marked by positive values, it brings people together, it is synonymous with self-surpassing and dynamic," said Francine Closener at the signing of the partnership agreement
FLF President Paul Philipp was honoured that the team was chosen to represent the country in this way.
"It is an honour for the FLF to become a partner of choice for the deployment of the national Nation Branding strategy. Our players are proud to support the promotion of the country's values. The mutual support resulting from this partnership helps to promote Luxembourg through football in international competitions," he said.
Produced according to the principles of Fair Trade in collaboration with Fairtrade Lëtzebuerg ASBL, a soccer ball in Luxembourg's colours and bearing the national slogan, is now available in shops. Balloons are available for sale in sports shops and in particular at the "Luxembourg House - Concept store" in Luxembourg City.
During the Luxembourg v France match this Saturday, 70 footballs sporting the "Luxembourg. Let's make it happen" slogan will be launched to the public during half-time.
Image: Francine Closener and Paul Philipp sign the Convention. © MECO