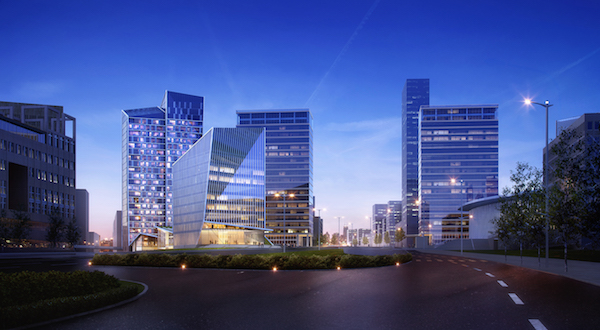 Development has commenced on the INFINITY project, the mixed residential, office and commercial complex, on the Kirchberg plateau.
Work on the INFINITY project that will redesign the Gateway to Europe is underway. Executed by the association The Baatz-Entrapaulus, earthworks and shielding work began in February and will last until summer 2017, with work being completed by the end of 2019.
In 2015, the INFINITY project won a competition run by the Fund of Urbanisation and Planning for the Kirchberg Plateau (FUAK) for the creation of a shopping centre, offices and housing.
The INFINITY triptych will include a shopping center of 6,500 m², a vast esplanade, a 6,800 m² office building as well as the future Philharmonie-Mudam tram stop. From its beginnings until the end of 2019, approximately 200 people will have been mobilised to build the 33,000 m² complex. Around 90,000 m² of land will be excavated as part of the project's development.
Designed by the architect Bernardo Fort-Brescia, a famous American architect and founder of the agency Arquitectonica, in close cooperation with the Luxembourg firm M3 Architectes, the INFINITY project will present itself in a singular crystal form in the architects' unique style.
INFINITY LIVING is openly inspired by luxury residential towers across the Atlantic. By its Private concierge, a monumental lobby and 150 upscale apartments, the tower Residential INFINITY redefines the codes of the art of living in Luxembourg. With the cityscape in the background, the apartments of the residence offer panoramas over the city from the 6th floor.
The INFINITY WORKING and INFINITY SHOPPING buildings are already fully taken. However, several apartments of different typologies and prices remain available in the INFINITY LIVING.