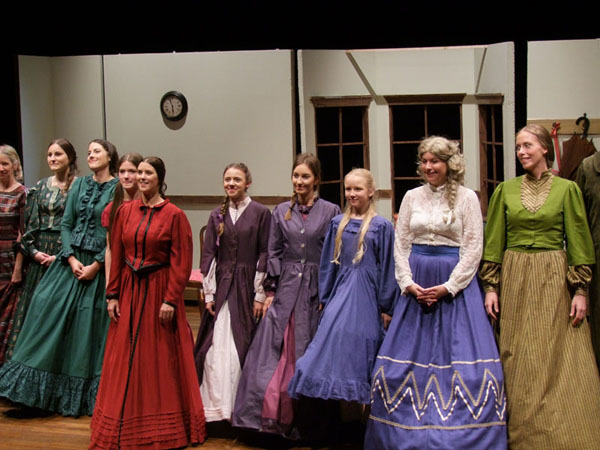 The Luxembourg Chronicle got to attend the Sunday matinee of BGT Englsih Language Theatre Company's production of Little Women at the KulturHaus in Mersch.
Adapted for the stage by June Lowery, the story is taken from book of the same name by Louisa May Alcott. It features young actors performing alongside other members of the English language community in the Grand Duchy, following the March family and the relationships of the four sisters as they grow up in the late 1860s. It is based on the childhood of the author herself in which the family grew up in poverty; for the book and play, this was transposed as their father having lost his money for an honourable cause.
The director cast two sets of sisters for the two acts, reflecting their growing up. With similarly coulured dresses and hair, the audience was left in no doubt about who was who. But is was the actresses, Hayley Dawson and Jacqueline Milne, who played Young Jo March and Adult Jo March respectively (based on the author herself) who stole the show. In fact, there were no weak links at all in the cast - one of the joys of seeing the production after a few performances. Unfortunately, as it was a matinee, there were many young children fidgeting and making noise despite the attempts of their parents to ensure their neighbours could enjjoy the play without distraction.
The audio levels at the start were difficult to hear, but after just a couple of minutes the sound had been corrected and the audience could sit back and relax, enjoying the prouction. Unfortunately, after half an hour, the seats in the tiered seating in the modern centre started to become unconfortable, and there was much moving around in seats, waiting for the interval to arrive.
But this did not take away from the production at all; far from it. Not only were the performances captivating, but the period costumes were all credit to the wardrobe department. The set design too, was simple but very clever, being compartmentalised and on casters, enabling quick manouvering between scenes. On the main, scenes were very short, but the change-arounds were helped by the playing of various songs reflecting the peiod. And the lighting was helped by a significant overhead gantry.
And the storyline? It starts off with the March Family Players rehearsing and performing. The girls' mother and father feature, as does their aunt, all with differnt personalities which are developed well as the storyline evolves. One daughter contracts Scarlet Fever, another travels to Europe and another teaches and writes. But those as sidelines to the overall issue of the girls' relationships.
If you missed the performances in Merch, Little Women will be performed again at the Abbaye de Neumunster from 25 to 29 November, with all performance at 20:00. Tickets €18 (reduction €10) from www.ccrn.lu.
For full photo album (on Facebook), see https://www.facebook.com/media/set/?set=a.602555429855766.1073741886.238112732966706&type=3