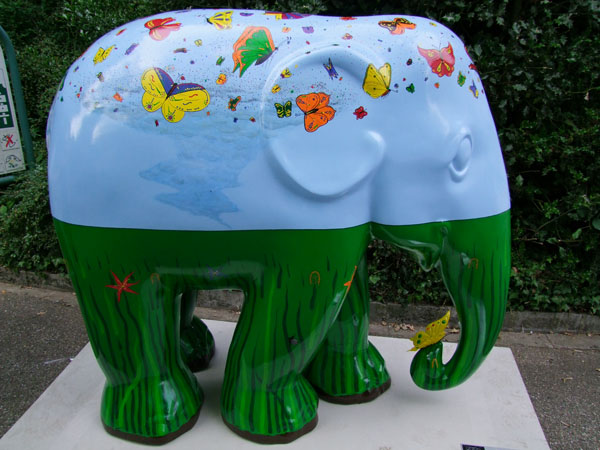 A herd of 94 elephants has arrived in Luxembourg city (and Trier) for a three-month exhibition; opening tomorrow, 19 July, the elephants will be on display at various locations throughout the capital until 18 October 2013.
The exhibition of urban art is being shown in Trier and Luxembourg city, involving 94 model elephants, each 1.5 metres tall. Each model is unique and is designed by various national and international artists. The elehpnats are for sale with 70% of the proceeds going towards The Asian Elephant Foundation" which works for the protection and conservation of Asian elephants.
Today's launch was held at the Place d'Armes in Luxembourg city, with the Trier opening tomorrow, 18 July at the Hauptmarkt. Joris Linders from the Elephant Parade organisation, explained how Marc Spits (NL) got the original idea after seeing a baby elephant that had stepped on a landmine, az an Elephant Hospital, located in Lampang, near Chiang Mai in Thailand when on a holiday there.
Today, there are less than 35,000 Asian elephants left throughout Asia - almost 150,000 Asian elephants died in the last 25 years. In Thailand there are just 4,000 elephants left, of which only 1,500 live in the wild. Over €4m was donated to The Asian Elephant Foundation last year from Elephant Parade fund-raising.
Jeanette Bremin was the artist who decorated the elephant Desirée (see above), which has been sponsored by Fiduciaire Benoy Kartheiser. Is is on display at the corner of Avenue Emile Reuter and Boulevard Prince Henri in Luxembourg City. To discover where all the 54 Luxembourg city elephants are located, small fold-out maps of the city can be purchased for 50 cents which goes o the charity. A shop is also situated at 16 rue des Capucins where other elephant-related merchandise can be purchased, with profits going to the cause.
The Elephant Parade has been described as the biggest outdoor art exhibition in the world. It started in Emmen (The Netherlands) in 2010, then Heerlen, Copenhagen, Milan and Singapore in 2011, Hasselt in 2012 and, apart from Trier and Luxembourg year, is also being exhibited in Southern California and UK (national tour).
Photos by Geoff THOMPSON: above: Desirée, decorated by Jeanette Bremin; below: Samuel Disckes (left, co-ordinator Luxembourg-Trier) and Joris Linders from Elephant Parade