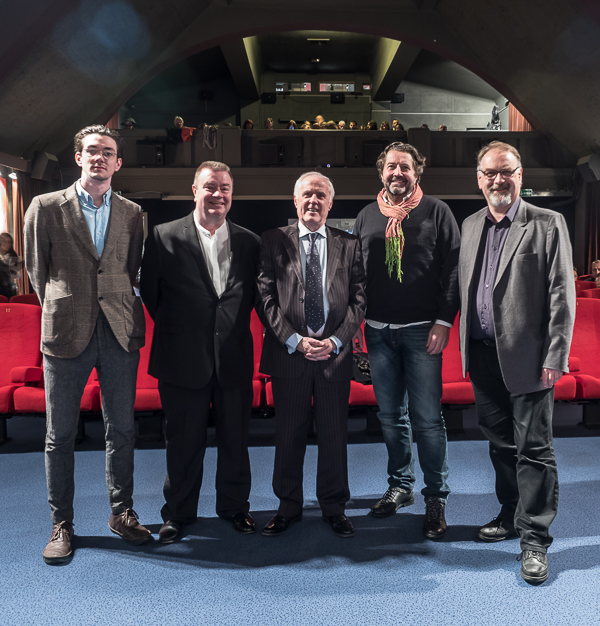 On Wednesday evening at the Cinétheque, just two days before St. Patrick's Day, the British & Irish Film Season was able to extend its play with a screening of Sanctuary, a 2016 film from Ireland that, as Luxembourg Chronicle and British & Irish Film Seasonfounder Geoff Thompson pointed out, was not just about people living with differences, is a film that really made a difference.
Distribution rights prevented its play at the Season last year, but now the film is being taken on a world tour, with Wednesday's screening being its first play in Europe, outside of Ireland. Director Len Collin was a little apprehensive about how the film would be received here, not because of its slightly unorthodox content, but concern that an audience with English as a second language might not always get where the film is going. "The audiences in New York and Chicago loved it, they really laughed so hard," said Collin before the screening started. "I'm not sure how it will go down here though."
He needn't have worried. The sensitive story of a love that fate and the world seem set on conspiring against enchanted the room, folding the audience neatly into bouts of out-loud laughter and the kind of poignance that leaves you having to consciously kick-start the breathing process. It's Romeo & Juliet, with tremors and an overweening state instead of the relatively banal impediments of lethally feuding families.
Larry (Kieran Coppinger) has Down's syndrome and Sophie (Charlene Kelly) is epileptic. Managing the simplest tasks, from making a sandwich to buttoning a shirt, are challenges that must be patiently, determinedly overcome every single day. So falling in love is something else altogether, especially when the state, in an effort to protect, overreaches and criminalises sexual intercourse with people living with disabilities, an astonishing failure to recognise that disability does not mean an inability to feel sexual desire or fall in love.
But Larry and Sophie are in love and the efforts of Tom (Robert Doherty), their carer, to unite them in peace, and privacy — another battle to be fought every day — leads them and their colleagues from the drop-in centre on a trip to Galway City and a tightly told story that takes an unflinching and gloriously funny look at romance from a slightly different perspective, a perspective that is so rarely considered by society at large that Ireland's legislators seemed to have thought it could be overlooked altogether.
The film was originally a stage play written by Christian O'Reilly who was commissioned to write about Section 5 of Ireland's Criminal Law (Sexual Offences) Act of 1993, which prohibits sexual intercourse or buggery with a person who is mentally impaired, unless the parties are married.
The play was commissioned by the Blue Teapot Theatre Company, a Galway-based theatre company, arts school and outreach programme for people with intellectual disabilities. The nine members of the ensemble are professional, award-winning actors who took the play across Ireland where it became part of a campaign led by Inclusion Ireland, Down Syndrome Ireland and others to overturn the law.
They're also the cast for the film, which took four years to create after Collin decided he wanted to do it, but which went on to win Best First Irish Film at Galway's film festival, Film Fleadh, on its release last year, and a Film Critics Circle Award at the Dublin Film Festival this year.
In the loveliest twist to the tale, the Festival screening, on St. Valentine's Day, was also on the same day on which it was announced in the Oireachtas (Ireland's Parliament) that this section of the law would be repealed.
Image: Robert Doherty ("Tom"), Len Collin, director, Ambassador Peadar Carpenter, Guy Daleiden, director of Film Fund Luxembourg, Geoff Thompson, founder of British & Irish Film Season. © Ian Sanderson