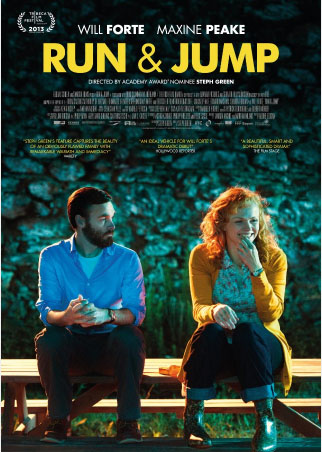 The 4th annual British & Irish Film Season is being held over two weeks from Wednesday 25 September to Tuesday 8 October.
Buoyed from the success of the speical guests attending last year's festival, this year sill see Actors, Directors, Producers, Screenwriters and Casting Agents attend in person, participating in Question and Answer sessions after the screenings of their films.
This week-end sees two events involving two Actors and a Director coming to Luxembourg!
Tickets for individual screenings can be purchased at the cinemas or online at www.utopolis.lu; a 5-film Season Special can be purchased for €25 online from www.bifilmseason.lu.
Friday: Maxine Peake @ Run & Jump
The drama Run & Jump is being screened this Friday 27 September at Ciné Utopia in Limpertsberg at 19:00.
The established actress Maxine Peake will be attending the screening of Friday's Run & Jump, including addressing a Q&A session and attending a reception afterwards. Maxine Peake has played many characters on film, including Myra Hindley in the 2006 film See No Evil: The Moors Murders, and she has also starred in the tv series Shameless.
Synopsis: Run & Jump follows Vanetia Casey, the spirited and impossibly optimistic centre of the Casey family, who is struggling to get life back to normal after her 38-year-old husband suffers a rare stroke that changes his personality. Entering the emotional fray is an American doctor who arrives in Ireland to stay with them for two months, his research grant providing the Caseys with essential financial aid. Vanetia is a dynamo, but with two young kids and both men in the house, she's feeling bombarded and treats Ted and his study of Conor with resistance. Only when she observes Ted's calming influence on the family does she begin to value his friendship, and, in return, Ted enjoys her heady, happy-go-lucky world. But Ted's continued presence in the house sets the family on course for an emotional collision.
Saturday: Amy-Joyce Hastings and Graham Cantwell @ The Callback Queen
The romantic comedy The Callback Queen is being screened this Saturday 18 September at Ciné Utopia in Limpertsberg at 21:00.
Amy-Joyce Hastings and Graham Cantwell will be attending the screening of Saturday's The Callback Queen, including addressing a Q&A session afterwards. Amy-Joyce Hastings stars in the lead role as well as co-producing the film along with director Graham Cantwell. She has featured in The Tudors amongst other roles.
Synopsis: A romantic comedy set in London's film industry. Kate Loughlin is a vivacious young actress struggling to get her big break. When she lands an audition for the lead role in a massive movie franchise based on the Prince of Chaos novels, she passionately seizes the opportunity. However, a sleazy agent trying to pimp her to the director pushes her to the other extreme. Determined to prove her strict professionalism, she starts second guessing Vincent's motives. In the cut-throat arena of show-business, Kate stands to learn that her profession is personal, and sometimes friction can create a spark.