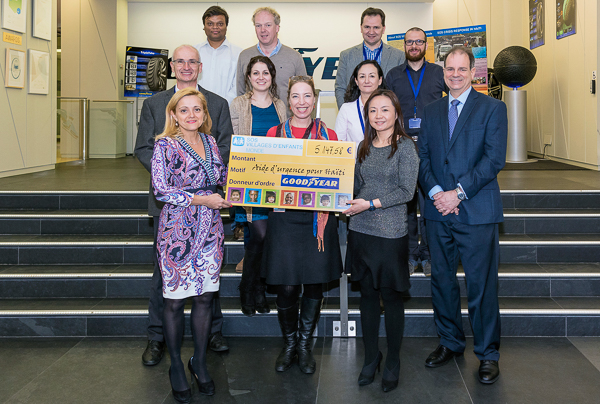 Carlos Cipollitti, General Manager of the Goodyear Research Center in Colmar-Berg, this month handed a check for €5,117.58 to SOS Villages d'Enfants Monde for relief and reconstruction programmes in Haiti following Hurricane Matthew, which struck in October last year.
Sophie Glesener, Director, and Anne Schweizer, SOS Villages d'Enfants World Partnership Manager, expressed their warm thanks to Carlos Cipollitti and the entire Goodyear Luxembourg team who raised the money during their Christmas party.
"We are pleased that Goodyear Luxembourg has been for many years at our side and strongly supported the SOS projects for vulnerable children. In the face of the emergency, children deprived of their rights need to be protected, supported, listened to and understood. After first aid, SOS helps families in the long term to rebuild their lives, children to return to school and communities to better prepare for the emergency," they said.
For his part, Carlos Cipollitti expressed his sincere thanks to SOS Villages d'Enfants Monde and added, "I also thank the Goodyear Luxembourg teams for their spontaneous commitment to a cause that we all cherish, namely the protection of children Confronted with major emergencies."
After Hurricane Matthew struck last year, SOS Children's Villages Haiti has responded to the urgent needs of more than 2,500 children and families in Les Cayes and its surroundings. In particular, it is providing drinking water and food, supporting a cholera vaccination campaign, sensitising families on disease prevention and protection, offering psychological support to children in Community centres, and renovating the SOS School of Les Cayes and four public schools in the region. On the road to reconstruction, SOS plans to set up new community centres and family support programs.