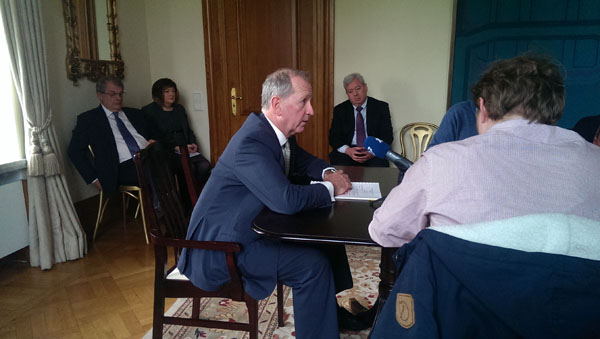 Alan Yarrow is the Lord Mayor of London: this position is not to be confused with that of Mayor of London, the current incumbent of which is Boris Johnson.
This annual post has existed since 1189, making it one of the oldest continuously running elected posts in the world. Probably the most famous Lord Mayor of London was Richard (Dick) Whittington, who held the post several times around the turn of the 14th and 15th centuries. Apart from the ceremonial position which includes being effectively sovereign of the City of London (even the monarch has to officially request permission from the Lord Mayor to enter the City), the holder of the office represents the interests of the financial institutions not only in The City of London, but in the United Kingdom as a whole.
Mr. Yarrow is currently in Luxembourg for talks on some of the financial issues which the EU is facing including Capital Markets Union (CMU), a plan of the European Commission that aims to create deeper and more integrated capital markets among the 28 Member States, Financial Transaction Tax (FTT), a proposed harmonised tax affecting certain financial transactions, and the Transatlantic Trade and Investment Partnership (TTIP), a proposed trade and investment deal between the EU and the USA.
At a press event at the residence of the British Ambassador to Luxembourg, Alice Walpole, Mr. Yarrow spoke of the high level of commitment (84%) within The City towards remaining a part of a "reformed Europe". He identified the reforms as an accelerated single market, cost benefit analysis of new legislation and to arrest the increased peripheralisation of Europe on the global economic stage. He also spoke of the need to rebuild trust in the financial systems in London, to accept that mistakes were made, and to put them right.
With regard to Luxembourg, Mr. Yarrow maintained that although on the face of it the Grand Duchy is a rival to the UK financial markets, he sees the real picture as being more complementary, where Luxembourg's nimbleness and agility allow rapid reaction to changing market conditions and being able to exploit niche markets that, by implication, London could not react to in such a timely way.
Photo by John Chalmers