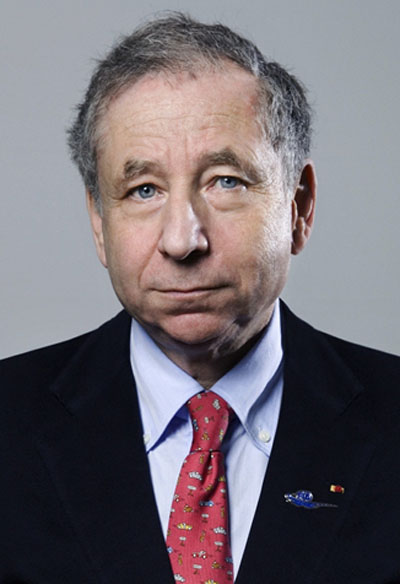 On Wednesday this week, ACL Luxembourg hosted the FIA (Fédération Internationale de l'Automobile) led and EU funded iMobility Challenge at the Centre de Formation Colmar Berg.
This roadshow, which is touring through countries as far apart as Turkey and Finland is showcasing new technologies that will link intelligent vehicles with intelligent infrastructures to make our journeys safer and more environmentally friendly. It was opened by Yves Wagner, president of ACL, along with François Bausch, Minister of Sustainable Development, Colette Maloney, Unit Head of Smart Cities & Sustainability for the EU, and former Ferrari Formula 1 boss, now president of the FIA, Jean Todt.
The Luxembourg Chronicle took the opportunity to meet with and to put some questions to Jean Todt.
TLC - Looking at the link announced on 8 May between the FIA and IFRC (International Federation of Red Cross and Red Crescent Societies) promoting the improvement of immediate post-crash medical care with so called public "snack" first aid training courses and improved first aid materials and education at FIA affiliated clubs, is there an argument for lobbying to encourage driver vehicle licensing centres throughout the world to make first aid training a mandatory pass point for all learner drivers to be able to get their full license? Would you personally support such a measure?
JT - I'm very proud that the FIA and the IFRC signed this agreement last week in Geneva and in fact next week we will sign another agreement with the International Transport Forum (ITF) in Leipzig. As I was saying earlier, you can only engage in road safety if you put all the big actors together, and we, as the FIA, we act as a sort of "Godfather" for the motorists around the world through our clubs which are represented in 139 countries. We need to work with the UN, with the World Bank, with the WHO, with the IFRC, with the regular banks, with as many organisations as possible to make a great awareness and to assess. So anything we can do on education, is, of course, essential. We must also act depending on the countries' major missions, and we must be realistic. We know that it cannot happen from one day to the next ... it may take decades. For example, take France. In France you had 16,000 fatalities per year. Now, with 2-3 times more vehicles on the roads, you have less than 4000, so you have multiplied by two or three times the number of vehicles and divided by four the number of fatalities and injured people ... but it has taken 40 years, and it has started because you have had input from the Head of State, so, that's what we need to be able to achieve, and that's why we want to put that on top of the list for governments, and it's lobbying, by which I mean "healthy" lobbying.
TLC - Under the auspices of Gerhard Berger, the FIA Single Seat Commission is currently investigating ways to simplify the planning of a career path through from karting to F1 by reducing the number of race series which "matter" on a young driver's CV. How is that work progressing, and when should we be seeing the final results of that work?
JT - So, this is what we call the pyramid. I was referring to that when I spoke (TLC - earlier in the day) about trying to improve racing, starting from the grass roots, not only single seater but karting, you have new categories like drifting, rally, touring car championship, GT, endurance, single seater ... so let's concentrate on single seater, and, as you rightly mentioned, Gerhard Berger is president of the Single Seater Commission. We want to have a kind of FIA University starting from go-kart to being able to have access to Formula1 ... so we have go-kart, we have Formula 4, we have started this new category of motorsport which is very promising and is going to be organised in different countries. Then you have Formula 3, and in Formula 3 we have quite a strong championship. Incidentally I went to the last race which was in Pau, and you see very talented young drivers, strong teams, good teams and I'm sure that you will see some of those drivers soon in Formula1. Also we need to readdress later what we call Formula 2 and after that you have Formula 1, so that's how, I would say, we are reinforcing our different categories
TLC - I'm going to ask you to look backwards, even though you've still got a long future ahead of you (JT - I hope so!) So far, in your career to date, you have run teams which have won 2 World Rally Championships, 2 Le Mans 24 hours races, 8 Formula 1 constructors' championships, 6 Formula 1 drivers' championships as well as Andros Trophy, Paris-Dakar, World Sports Car championship and so on ... an unparalleled level of success across so many motor sport disciplines. What do you regard as your most personally satisfying achievement to date?
JT - I hate answering "the most", but I would say probably the thing which is not very well known and which is probably one of the best achievements I've done is to be the initiator of the brain & spinal cord institute based in Paris called the ICM (L'Institut du Cerveau et de la Moelle Épinière). If you go to your internet you will see it's a 25,000 square metre research centre with 600 researchers located in the heart of Paris in the biggest hospital. The president of the institute is a famous friend of mine, Professor Gérard Saillant, who is also the president of the FIA Institute and the Medical Commission and is one of the main private founders because the origin of this institute is half public, half private, and so we have had some access to private funding ... one of the biggest donators is Michael Schumacher. He is amongst the founder members so probably that is a very important achievement.
If we go more to the sport side I must say I had, and still have, a passion for motor sport. I was a rally co-driver, afterwards I was the founder of the Peugeot Sporting Programme, with a lot of success, then we went to Cross Country rally racing. Each one we participated in, we won, then we went to the endurance championship and the pinnacle of the calendar is the Le Mans 24 Hours which we won twice then I went to Ferrari which was a very big challenge. I think you know that when I arrived at Ferrari it was EVERYTHING to rebuild and in a way, when I left Ferrari, it was at a very high level, so whoever came after did not have to rebuild like I had to when I arrived. We built a fantastic team, great people who were, I used to say, "The Dream Team" and we had great success. If among all of these things I have to say what is the number one success, I think of the Suzuka Grand Prix in 2000 when Michael (TLC - Schumacher) brought back, 21 years after Jody Scheckter, the driver's title (TLC – to Ferrari), so probably it was the most preeminent success. Again, that's why I feel so motivated by this challenge which is road safety because really, imagine if your life is made up of chapters. First you try to have success, to have a good living for you and your family, and once you have achieved that I think it's important to have the will to give something back in return you know because I think it's very important to always have your eyes open, and sometimes I feel a bit frustrated with Formula1, which is the pinnacle of motor sport, people are so spoiled, they don't realise any more. I've been travelling throughout my career, but when I was elected president of the FIA one of my commitments was to visit all our member organisations which are spread over 139 countries. So I visited all the countries, and you know, sometimes you go in some countries in Africa, in the Middle East, in Latin America, in Asia and you have 60% unemployment rates ... average salary for those who are fortunate enough to be employed is about $100 a month ... when you have an accident you are only taken care of if you bring some money, so it's like an eternal cycle, so I think that it's very important that we realise that it does happen in our world and that when you do realise, as I do realise, you want to try to give what you can to address it.
Photo courtesy of FIA: Jean Todt