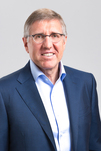 On Monday, Luxembourg's Minister of Sustainable Development and Infrastructure, Francois Bausch, was in Beijing as part of his 4-day official trip to China,
There he met with Xia Xinghua, Deputy Minister of Administration of Civil Aviation in China. During the meeting, Minister Bausch raised issues relating to Cargolux, including the topic of dual hub that will allow Cargolux to connect with the largest airports in China. Deputy Minister Xia Xinghua outlined the overall strategy for transport and logistics in China and reiterated his interest in strengthening logistics relations with Luxembourg. He stressed the importance of attracting the Chinese central government to the development of Henan Province and its logistics hub, given its ideal location in the centre of the country.

The Deputy Minister confirmed that, following the start of the Cargolux-HNCA agreement, the Chinese authorities intend to consider positively the requests made by the Luxembourg Government during the meeting.

"I am pleased that the Chinese central government has encouraged Henan Province to develop and supports all related efforts" welcomed Minister Bausch, who is also responsible for Transport.

The Luxembourg delegatio, composed of representatives of the Ministry of Sustainable Development and Infrastructure, the Ministry of Foreign and European Affairs, the Directorate of Civil Aviation and Cargolux SA, will continue its visit to Zhengzhou, in Henan Province, on Tuesday morning.