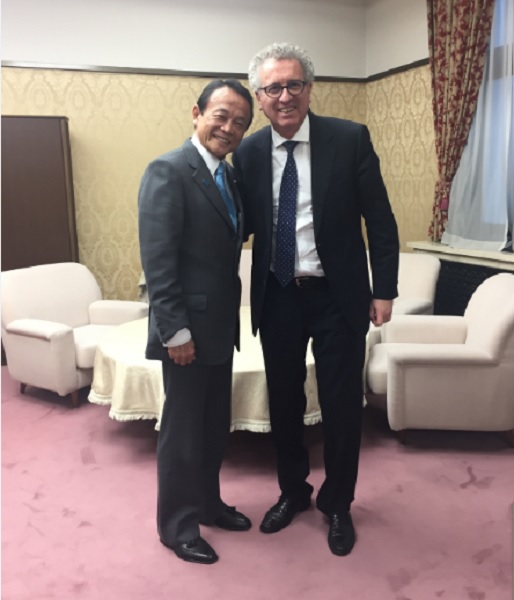 On Tuesday 10 January 2017, the Luxembourg Minister of Finance, Pierre Gramegna, met with his Japanese counterpart, Taro Aso to discuss bilateral relations between the two countries.
Yesterday, Pierre Gramegna and Japan's Minister of Finance, Taro Aso, met during the former's mission in Japan. The two ministers congratulated one another on Luxembourg and Japan's bilateral relations which are to strengthen further.
What has encouraged Pierre Gramegna to regularly visit Japan is the interest Japanese businesses and financial institutions have shown in Luxembourg. At the meeting, he emphasised the positive status of Luxembourg's economy, with increased investments and a continued decline in unemployment.
Meanwhile, Minister Taro Aso addressed Japan's improving economic situation.
Finally, both ministers discussed the current international situation, with topics such as Trump's election and Brexit.
Photo by MFIN. From left to right: Taro Aso, Minister of Finance of Japan; Pierre Gramegna, Minister of Finance of Luxembourg