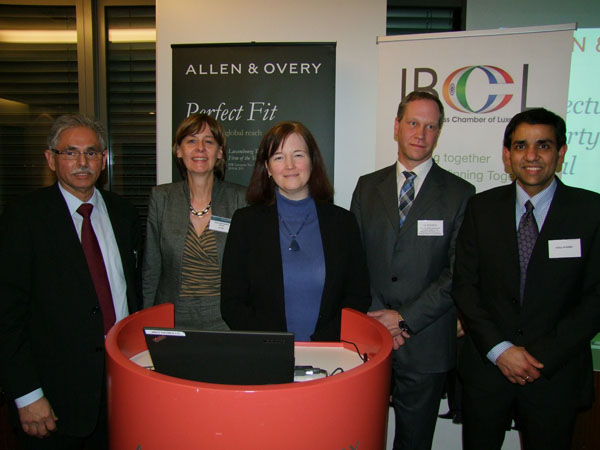 Allen & Overy hosted around 70 members of the Indian Business Chamber Luxembourg (IBCL) at its Kirchberg headquarters on Monday evening, addressing the issue of Intellectual Property In the Digital Environment.
Guest speaker Michele Woods of WIPO in Geneva outlined the basics of copyright and related rights, and how this is defined in international conventions and treaties, as well as the lack of harmonisation across jurisdictions.
According to the Berne Convention, copyright lasts for the duration of the life of the author plus 50 years, while some jurisdictions declare that the rights are for the life of the author plus 70 years, while others are based on perpetuity, with some supporting transfers and others not.
Apart from the obvious (written works, photographs, etc.), various others, including software and databases, also can be copyrighted. She explained the concepts of, and differences between, moral rights and economic rights.
The issue of digital rights management helps rights-holders (authors, performers) protect their inventions (music, etc.) against infringement. The digital era throws up challenges in this domain, including licensing and enforcement, particularly in developing countries and in relation to user-generated content: YouTube content, in particular, is within this grey area.
She also mentioned WIPO's Standing Committee on Copyright and Related Rights, explaining how it works internationally, including limitations and exceptions. Other projects include helping member countries establish collecting societies, undertaking studies to explore the growth of creative Industries (which can contribute 5% of GDP), etc.
The second speaker, Katia Manhaeve of Allen & Overy, addressed other aspects of IPR, starting with trademarks, names and logos, etc., to distinguish a company's product against those of competitors; specifically she touched on domain names.
1st domains have expanded hugely since 2013 when ICANN added new Top Level Domains (from 18 before, there are now 1,900 applications). She gave the example of .nike, where a brand could be a TLD. Other new ones cover generic-specific (e.g. .beauty) and geographic (e.g. .Helsinki). One of the issues here is the rise in conflicts between trademarks and domain names.
The trend of 3D printing is a large growth area for 2015 and one where IPR is starting to be relevant; for example someone purchases an item and then scans and reproduces it using 3D printing. The problem here is that the item could be protected from copyright.
Regarding patents (that protect invention) they protect inventions, either a product or a technique. She outlined the current Smartphone Competitor Patent Suits, including Apple and competitors.
Lex Kaufhold of the IP Office of Luxembourg's Ministry of Economy was the last of the three speakers. He referred to the issue of the country hosting the presidency if the EU Council in the second half of this year. He referred to the new EC work programme which addresses consumers enjoying cross-border access to digital services, but acknowledged that little is currently known about what the EU is currently planning for future implementation.
Achieving a single digital market, the price of digital content is a topical issue, with transparency important; businesses should be able to access all legal services throughout the EU. He argued in favour of a real Internal Market within the EU, current barriers to access legal content must continue to be broken down, and questioned the approach of market liberalisation which he argued would not help small countries.
Other pertinent issues include consumer rights and data protection, as well as International Private Law, all if which he described as barriers to trade within the EU.
He also mentioned the setting-up of the Luxembourg Intellectual Property Institute - see previous article at http://www.chronicle.lu/component/k2/item/8148-new-luxembourg-institute-of-intellectual-property-given-green-light - which will provide independent advice to those seeking IP protection on their creations and inventions.
In conclusion, in an Indian context, Adita Sharma of the IBCL talked about the issue of Bollywood films being illegally downloaded; in general the Indian IP enforcement authorities are quite lax.
Photos by Geoff Thompson (above, L-R): Sudhir Kohli, IBCL; Katia Manhaeve, Allen & Overy; Michele Woods, WIPO; Lex Kaufhold, Luxembourg Intellectual Property Office; Aditha Sharma, IBCL