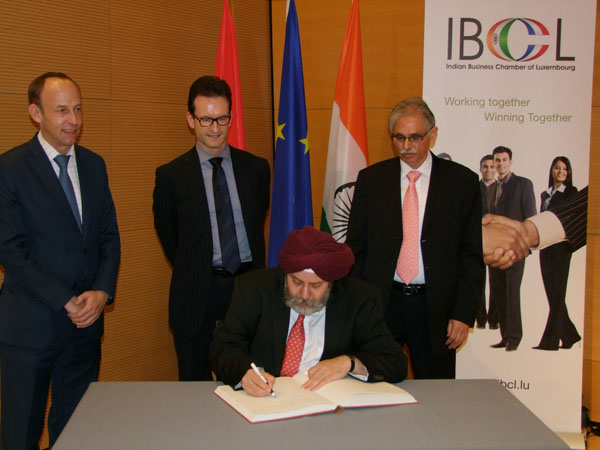 The Indian Business Chamber Luxembourg (IBCL) held an evening seminar on Thursday at the Chambre de Commerce in Luxembourg-Kirchberg on the topic of Make in India.
Pedro Castilho of the IBCL introduced the topic and explained that the flagship initiative was launched by the new Indian government last year.
Carlo Thelen, Director of the Chambre de Commerce, referred to India's new government coming into power last year and which predicted that 2015 will be the Year of India. He recalled that India reported 5.8% GDP growth in 2014, it is expected to be over 3% this year, band in 2016 is expected to be over 6% and surpass that of China. He stressed that this will open opportunities for European companies and, in particular, those operating from Luxembourg.
Sudhir Kohli, Chairman of the IBCL, explained that Make in India is intended to encourage international companies to establish their global manufacturing hub in India. The country offers not only a large domestic market but also huge export potential. It is recognising that hurdles have prevented such FDI in the past and has promised to remove bureaucratic barriers and improve infrastructure, as well as improving labour law, etc.
25 priority sectors have been identified; for Luxembourg, the interesting sectors are numerous and include automotive components, ICT, space, green tech, bio tech, thermal power and electronics.
The panel discussion, moderated by Virginie Michelsen of Deloitte luxembourg, involved HE Manjeev Singh Puri, Ambassador of India to Belgium and Luxembourg; HE Sam Schreiner, Ambassador of Luxembourg to India; Francis Michaud of Paul Wurth; Heike Carl Zatterstrom of Boson Energy SA.
IBCL will hold another event on 22 April, addressing the Indian budget being announced on 28 February, to clarify the new tax, regulatory and corporate aspects for international investors.
Photos by Geoff Thompson (above, L-R): Amb Sam Schreiner; Carlo Thelen; Sudhir Kohli, IBCL; (seated) Amb Manjeev Singh Puri