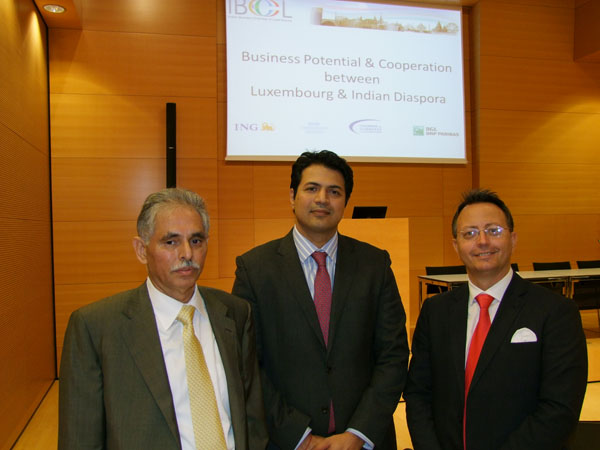 The Indian Business Chamber Luxembourg held an evening seminar yesterday after work at the Chambre de Commerce in Luxembourg-Kirchberg.
The event addressed the topic "Business Potential & Cooperation between Luxembourg & Indian Diaspora" with a number of guest speakers, including Luxembourg's Minister of Labour, Employment & Immigration, Nicolas Schmit, following an introduction by Pierre Gramegna, Director General, Chamber of Commerce.
The Keynote Speaker was Mr. Ravi Sidhoo, a widely acclaimed expert on Indian Diaspora in Europe and the Global Head of South Asian Business at KBL European Private Bankers, London. He shared his valuable knowledge and broad range of experience in financial markets and in promoting and facilitating cross border transactions mainly between Europe and the Indian Diaspora.
He touched on confusion, challenges and opportunities, and urged people not to think about stereotypes. The Indian Diaspora numbers around 30 million, with around half a million added each year, spread over North America, Australia, the Middle East, the UK and various countries in Asia and Africa, mainly. They emigrated both pre- and post-independence, with Indian merchants arriving in Russia in 1615, then to British colonies, etc., in the 19th century, followed by Canada from 1890 with the British Army and early in 1900 in the US, then to the UK with the East India Co. Many ended up in the Gulf states due to the 1970s oil boom.
He explained the political relevance of the movement of this diaspora, with the UK, US and Canada all having 25+ elected officials of Indian origin, as well as the economic relevance with nearly 5,000 having a net worth of USD 30+ million and many assuming high-level professional careers. There are 35,000 Indian American doctors and in 2002 there were 233,000+ US firms owned by Indian Americans., with 71% holdign a Bachelor's degree or higher, compared to a national average of 28%.
Concluding, he explained that the Indian Diaspora is one of the most successful migrant populations in the world. While it has linkages with India, the Diaspora has an identity of its own and contributes approx. 40% of India's forex reserves. He also suggested some ideas for collaboration and argued that there is no better local brand ambassador to India than members of the Indian Diaspora.
Ms. Nausheen Ansari, Adviser I&E, Embassy of India in Brussels, also addressed the attendees prior to a networking cocktail.
Photo by Geoff THOMPSON (L-R): Sudhir Kohli, Chairman IBCL; Ravi Sidhoo of KBL European Private Bankers; Pedro Castilho of IBCL