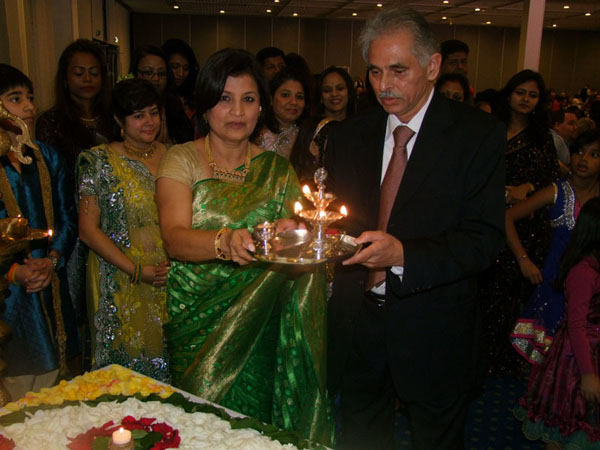 Over 550 people attend the Diwali Celebration on Saturday evening at the Hotel Parc Alvisse, organised by the Indian Business Clamber Luxembourg (IBCL).
Diwali is the Indian Festival of Lights, and IBCL President, Sudhir Kokli, led a nember of families in a traditional Hindu prayer ceremony at the start of the evening. He then delvered the formal welcome and thanked all the sponsors, of both the busienss chamber and the event itself. He talked about creating closer links between India and Luxembourg and explained that this can be achieved by improving cultural ties (such as this Diwali celebration), as well as holding various business seminars and other activities.
Following the first half of the entertainment in which the Eastern Illusion Group captivated the auience, including dozens of children who gathered attentively in front of the stage, the buffet meal was served. The prizes for the tombola were then drawn and awarded, including two bottles of Whiskey donated by The Luxembourg Chronicle and a shopping voucher by Chronicle sponsors Luxair and Mélange as well as various Indian restaurants and shops, following which the second part of the entertainment, a Bollywood Dance performance by the Eastern Illusion Group, prior to the draw for the top Tombola prize, sponsored by Sales-Lentz, a trip to India.
Click here for full photo album from the evening, on Facebook.
Photos by Geoff Thompson