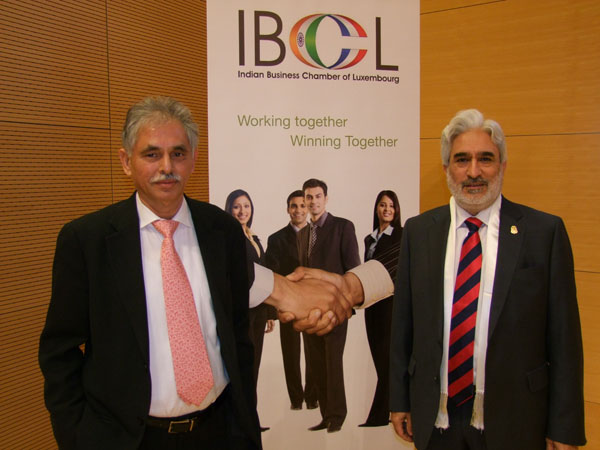 The Indian Business Chamber of Luxembourg held an evening seminar on the topic of the Impact of Terrorism on Global Economy, Financial Markets & Tourism.
The event attracted around 50 members and was held at the Chambre de Commerce in Luxembourg-Kirchberg, with the preamble being that terrorism has defined the world economy and regulatory response in a way never seen before. It takes myriad forms and is among the top three reasons for continued low confidence in the investing community leading to prolonged global economic depression with resultant impact on financial markets and tourism.
Jagtar Basra, the Vice President Business Development Security at CBRN Defence in the UK, has been a speaker at major security events all over the world for many years. He gave a fascinating presentation and explained that terrorism is not a local problem, it is a global problem and impacts all of us and our lives. When innocent lives are lost, there can be no justification in any shape or form. Some instigators are labelled terrorists by parts of society, while other parts label them as freedom-fighters.
He listed the main countries affected by terrorism in the last few years and emphasised that most people remember some major acts of terrorism while most (acts) are quickly forgotten by the masses. He stated that just 31 of the 159 countries have never experienced acts of terrorism. Most instigators of terrorism thrive on publicity, and he mentioned Iraq, Madrid and Indonesia, amongst others.
The effects can be devastating on local economies, from loss of tax revenue, drop in property values and fall in tourism, impacting the whole society. Re the 9/11 attacks on the World Trade Centre in New York City, the stock exchange was suspended and did not open again until 9/13, the longest shut-down since the 1930s. After the London bombing, the markets fell 3.8%; within an hour, other international stock exchanges also fell, by over 5%.
On the other hand, there are people who made money as a result, for example in rebuilding.
He also mentioned the terrorism attacks in Mumbai, Manchester (rebuilding cost STG1.2 bn) and Oklahoma (rebuilding cost USD681m), as well as well as referencing the IRA which he explained was funded from the US, and now figures such as Gerry Adams and Martin McGuinness are now leading politicians. However, lives are irreplacable: in 9/11, 3,500 people lost their lives.
The effect of the Bali bombings was a drop in hotel occupancy from 80% to 27%; Australia was also directly affected as many suppliers to the Bali hospitality sector are from there. Airplane cockpit doors and metal detectors at airports were introduced following the Lockerbie bombing by Libyan terrorists. When liquid explosives were planned to be used in 2006, but the plot was uncovered in time, the effect on security was applied world-wide.
In finishing up, he showed the effect of a 50kg car bomb, where most dmage is done by flying shrapnel, as well as from a 100g letter bomb and a fire incendiary device.
Between the two speakers, the IBCL's Pedro Castilho informed the audience of the Young Entrepreneur's contest as well as the initiative for the "111 Company ", two initiatives to support innovation and entrepreneurship. He also advocated that those residents of luxembourg who have not yet registered to vote in the European Elections on 25 May, have until 27 February to do so.
Georges Bingen, Head of the Representation of the European Commission in Luxembourg, referred to today being the 133rd day in the Bommeleer trial which happened over 30 years ago in the Grand Duchy.
In general, he asked can the European Commission do more the prevent terrorism. He acknowledged that the reasons for terrorist attacks are multiple, citing a number of examples. He referred to a European strategy to combat radicalisation and extermism, including recruitment, a mainly preventive action. They collect best practices and partake in training actions and support pro-active strategies to get young people out, with mentoring and psychological support, as well as monitoring online content. Another action line is empowering the victim. A new EU directive is to come into force across the EU to provide all victims with the same level of support.
The EU has allocated a certain budget (€4.6bm) earmarked for internal security, with some to be used in the above areas.
The EU has a counter-terrorism co-ordinator whose mission is to co-ordinate the work of the EU council in the area of counter-terrorism, and has links with a radicalisation awareness network, involving around 750 people (teachers, fireman, ...) who are recommending what can be done, including actions and who also collect examples of good practice. He also referred to issues such as data protection, as well as an EU-India initiative to address terrorism.
Photo by Geoff Thompson (L-R): Sudhir Kohli, President IBCL; Jagtar Basra.