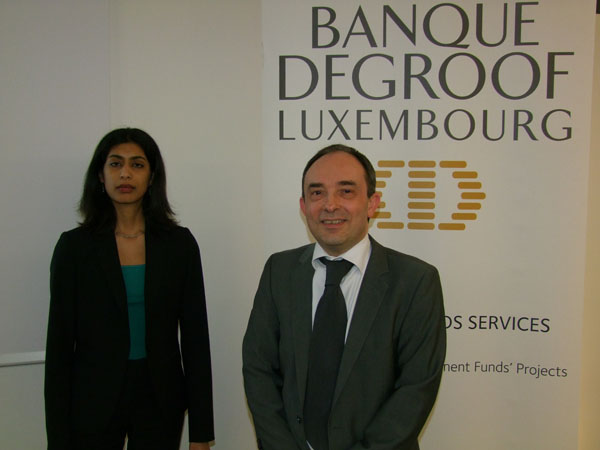 The Indian Business Chamber Luxembourg (IBCL) held an evening seminar on Thursday at the premises of Banque Degroof in the Cloche d'Or, addressing the topic of India's financial sector - challenges and opportunities for Luxembourg.
Pedro Castilho of the IBCL thanked the bank for hosting the event of the IBCL introduced the speakers.
Anjalika Bardalai, Senior Analyst at Eurasia Group in the UK, reviewed the Indian financial sector, of which 13.5% is made up of insurance companies and 58% commercial banks, of which 43% are foreign-owned, 26% are state-owned and 20% privately-owned. However, state-owned banks account for 76% of total advances. Standard Chartered, at 24th, is the largest foreign bank in India; the State Bank of India is by far the largest of any bank, with 17.8% of total advances.
The government has a strong hand in the banking sector in India, with a low NET NPA ratio (between 0.5% and 2%). However, credit allocation by sector is inefficient, with large industry having 28.4%, SMEs having just 6.3%, services 17.9%, priority sector 24%, agriculture 9.2% and personal loans at 14%.
While the RBI is set to grant new licences, these are subject to repeated delays due to bureaucracy, including thorough vetting. It is hoped 3-5 new licences could be issued - the last new entry in the banking sector was ten years ago. This could be a new opportunity for foreign banks, yet they would be operating under strict conditions of capitalisation and corporate governance, with a regulatory focus on system stability.
She referred to Basel II, where Indian prudential norms are stricter than international requirements.
She then addressed the insurance sector where again the state dominates, with the private sector accounting for just 6% of the life assurance sector, and 28% of non-life insurance.
She then examined the political situation in India and presented four different outcomes, with the probability of a BJP-led coalition government; if so, it is likely that reform will be slow (particularly re the financial sector) and new legislation will be stalled.
Overall, her presentation was focused on opportunities for foreign financial organisations in general, not specifically from Luxembourg.
Hubert Grignon Dumoulin of the Luxembourg Stock Exchange also addressed the audience how Indian companies could access foreign capital before a networking reception.
Photo by Geoff Thompson (L-R): Anjalika Bardalai; Hubert Grignon Dumoulin