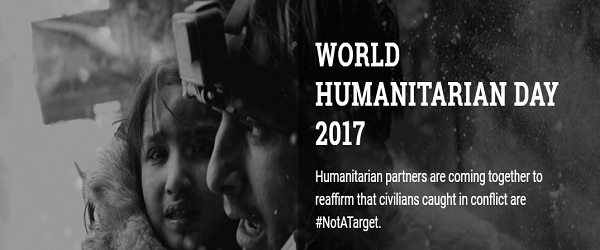 Luxembourg has pledged its support for the UN #NotATarget campaign on the occasion of World Humanitarian Day 2017.
Every year on 19 August, World Humanitarian Day is an opportunity to highlight the enormous humanitarian challenges facing the world and the exemplary work of humanitarian workers.
This year it seeks not only to celebrate the spirit that inspires humanitarian work and to pay tribute to the thousands of people showing remarkable dedication and courage to help victims of war and disaster, but also to raise awareness of the need to protect civilians in times of armed conflict.
Faced with the consequences of continued conflicts worldwide, health professionals and aid workers risk their lives to provide assistance to those affected by the violence, and are increasingly targeted by attacks.
According to the United Nations, by 2017, the number of people in need of humanitarian assistance is 141.1 million in 37 countries. Indeed, 2017 was marked by multiple disasters in the midst of the protracted crises that generate most of the humanitarian needs. Famine has been declared in two counties of South Sudan and up to 20 million people are at risk of famine in the northeast of Nigeria, Somalia, South Sudan and Yemen.
Therefore, on the occasion of the World Day 2017, Luxembourg joined- through the awareness campaign launched on social media by the UN- humanitarian partners to reaffirm that civilians trapped in conflict are #PasUneCible (#NotATarget).
Luxembourg spends an average of 13% of its official development assistance (ODA) on responses to humanitarian crises.