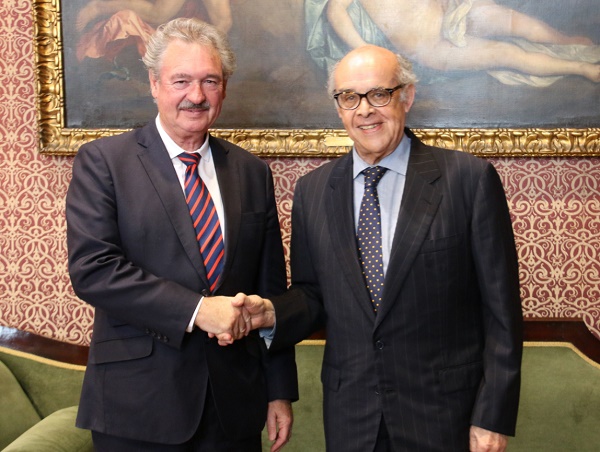 L-R: Jean Asselborn, Minister of Foreign and European Affairs; Ricardo Luna Mendoza, Minister of Foreign Affairs of Peru; Credit: MAEE
On 12 December 2017, Luxembourg Minister of Foreign and European Affairs, Jean Asselborn, undertook a working visit to Lima, where he met with his Peruvian counterpart, Ricardo Luna Mendoza.
In Lima, Minister Asselborn met with Ricardo Luna Mendoza, Minister of Foreign Affairs of Peru, and Claudia Cooper, Minister of Economy and Finance of Peru, for in-depth discussions on bilateral relations and the regional situation.
The exchanges of views made it possible to highlight the excellent cooperation between Luxembourg and Peru, whose bilateral relations are not only characterised by regular and frequent contacts at the level of members of the government and civil servants, but also by the fact that Peru is an important economic partner of Luxembourg, particularly in the financial sector.
In order to further strengthen political and economic relations, Minister Asselborn discussed with the Peruvian authorities several areas of common interest. In this context, the Peruvian authorities undertook to eliminate, as of January 2018, certain administrative obstacles and to facilitate the rapid start of negotiations for the conclusion of a non-double taxation agreement integrating the new standards of the OECD. Similarly, the discussions between the ministers highlighted the importance of moving forward as soon as possible to finalise an agreement on air services.
The visit also made it possible to take stock of the situation in Peru, its relations with neighbouring countries, as well as regional perspectives and the year 2018 being an electoral year in more than ten Latin American countries. Moreover, the ministers discussed the situation in Venezuela, in light of the work of the "Lima Group" (bringing together Argentina, Brazil, Canada, Chile, Colombia, Costa Rica, Guatemala, Honduras, Mexico, Panama, Paraguay and Peru) to examine the critical situation in the country and to find ways to contribute to the restoration of democracy through a negotiated political solution.