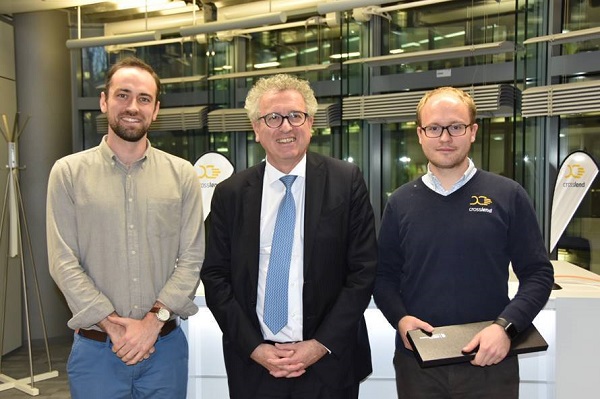 (L-R): Alex Lawrence, General Manager, Crosslend; Pierre Gramegna, Minister of Finance; Oliver Schimek, CEO and Founder, Crosslend;
On Monday 18 December 2017, Luxembourg's Minister of Finance, Pierre Gramegna, traveled to Berlin to participate together with Jeroen Dijsselbloem, Luis De Guindos, Peter Kazimir and Michel Sapin, in a dinner held in honour of the former German Federal Minister of Finance, Dr. Wolfgang Schäuble.
This informal meeting provided an opportunity for a broad exchange of views on topical issues and future directions of financial and economic policy in the euro area.
In addition, Minister Gramegna had a working lunch with his German counterpart, Peter Altmaier, to discuss the future challenges of the European Union and in particular possible avenues for further integration of Economic and Monetary Union. This meeting is in line with the bilateral meeting that Minister Gramegna had on 15 December 2017 in Rome with his Italian counterpart, Pier Carlo Padoan. It should be noted that the Minister also took advantage of this trip to Rome to participate, as keynote speaker, in the Rome Investment Forum 2017.
During his visit to Berlin, Minister Gramegna also visited the offices of Crosslend, which is one of the European pioneers in P2P lending. The minister was informed of the latest developments in this area and the company's expansion strategy in Europe. In this regard, the company's executives confirmed that Crosslend will soon install its new European operating centre in Luxembourg. It will thus enrich the Luxembourg ecosystem in the field of FinTech and help develop the range of services offered on the financial market.