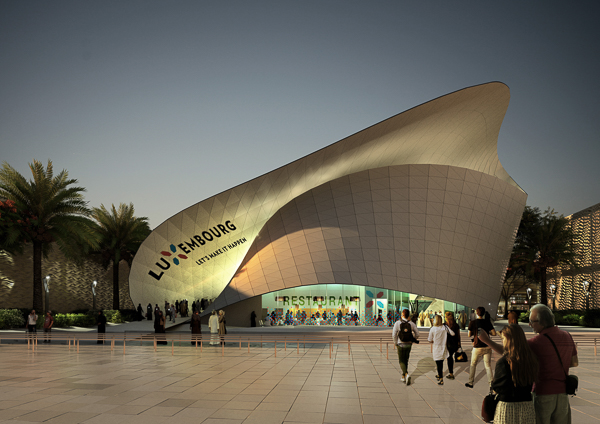 In the context of the representation of Luxembourg at Expo 2020 Dubai, which will take place from 20 October 2020 to 10 April 2021, the national cultural sector, including contemporary creation, is largely involved in the development of the scenography of the Luxembourg pavilion.
In keeping with the theme of Expo 2020 Dubai, "Connecting minds, Creating the future", the artistic project for the Luxembourg Pavilion will follow the idea of ​​connecting spirits, in this case, artistic minds, to the creation of collaborative works. In association with the Luxembourg Expo 2020 Dubai, the artistic committee in charge of the implementation of the cultural component of Luxembourg's participation has selected artists based on their excellence and ability to adapt to the conditions of collaborative creation.
The artists selected within the collectives and from 7 separate artistic fields (visual art, dance, design, film, music, literature and theatre) are:
• Julie Conrad (design)
• Ady El Assal (film)
• Guy Helminger (literature)
• Karolina Markiewicz & Pascal Piron (visual art)
• Simone Mousset (dance)
• Patrick Muller (music)
• Renel Pierlot (theatre)
The artists will have to develop together artistic proposals and to consult with the architect and the scenographer, to carry out a conceptual reflection to incorporate the cultural and artistic aspect to the scenography of the pavilion. In addition to being a field of experimentation for artists both in terms of development and creation, the chosen concept will highlight the artistic potential of Luxembourg under an innovative and unifying aspect.
The works of the artists' collective will take place in Luxembourg and Dubai in the form of residencies for research and creation. The period of activity of the artists' collective is fixed from January 2018 to April 2021 and the co-ordination is ensured by the National Cultural Fund. A first description of the works to be produced will be presented to the artistic committee and the GIE Luxembourg Expo 2020 Dubai at the end of the first half of 2018.
The artistic committee is chaired by the Commissioner General at Lux 2020 Pavilion Dubai Expo, Maggy Nagel.