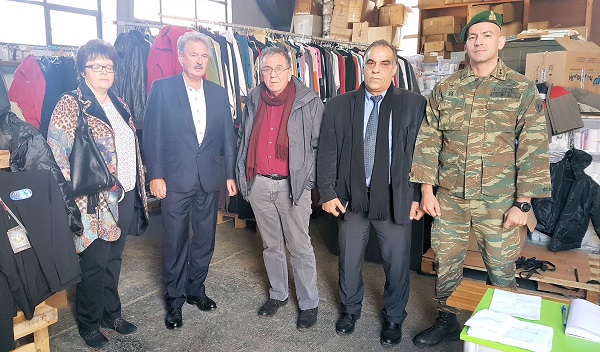 (L-R): Jean Asselborn, Luxemourg's Minister of Foreign and European Affairs; Yannis Mouzalas, Greece's Minister for Migration; mayor of Peramato; Credit: MAEE
On Wednesday 27 December 2017, Luxemourg's Minister of Foreign and European Affairs and Minister of Immigration and Asylum, Jean Asselborn, visited the Schisto and Skaramanga refugee camps in Athens, Greece.
The visit was with Greece's Minister for Migration, Yannis Mouzalas, with whom he reviewed the implementation of the relocation mechanism and crisis management along the migratory route of the Eastern Mediterranean.
They met refugees and learned about their conditions of reception and life in the camps. Minister Asselborn also inquired about the conditions of schooling and supervision of unaccompanied children and minors. In the camps, he also had the opportunity to meet with local authorities and camp leaders as well as representatives of humanitarian organisations present on the ground.
Assuring the Greek authorities of the will of Luxembourg and the EU to support Greece financially and logistically to improve the reception centers for migrants, Jean Asselborn recalled that "no country could carry this burden alone. Migration is not a Greek, Italian or Luxembourg problem, but a European problem; we must find common European solutions and show that Greece is not abandoned to its fate - European cohesion and solidarity must be expressed".
Minister Asselborn was in Greece at the invitation of the Greek Minister for Migration, Yannis Mouzalas. During his visit, Minister Asselborn was also received by the President of the Hellenic Republic, Prokopis Pavlopoulos. The meeting provided an opportunity to discuss the domestic political and economic situation, as well as the significant challenges that the country continues to face economically and through migration. The President warmly thanked Minister Asselborn for Luxembourg's engagement with Greece in this difficult period, with particular emphasis on the minister's personal role.
Minister Asselborn praised the substantial efforts made by the Greeks to overcome the economic crisis and the migration challenge. He agreed with the President of the Hellenic Republic that the European Union was built on solidarity and that only respect for solidarity can find a solution to the migration crisis. "The erosion of solidarity could mean the end of the European Union," warned the minister.