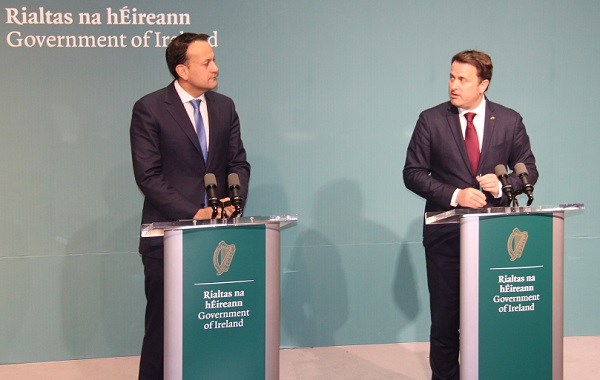 (L-R): Leo Varadkar, Taoiseach; Xavier Bettel, Prime Minister of Luxembourg; Credit: ME
Luxembourg's Prime Minister, Xavier Bettel, was in Dublin, Ireland, yesterday to meet with the Taoiseach, Leo Varadkar.
The Prime Minister and the Taoiseach (Irish Prime Minister) discussed bilateral relations between the two countries as well as the future of the European Union and particularly Brexit.
At the meeting, Prime Minister Bettel stated "within the framework of Brexit, Ireland and Luxembourg will have to join forces and consult each other to ensure that the framework for future relations between the European Union and the United Kingdom be compatible with the global needs of our industries, especially in the area of ​​services".
Accompanied by a Luxembourg economic and financial delegation, Prime Minister Bettel participated in a working meeting with the private sector. This exchange helped to strengthen economic and financial exchanges between Ireland and Luxembourg and to hear the views of the Irish private sector on Brexit. Prime Minister Bettel said "it is important to listen to the private sector regarding the impact of Brexit in order to avoid as much as possible the negative impacts of Brexit".​