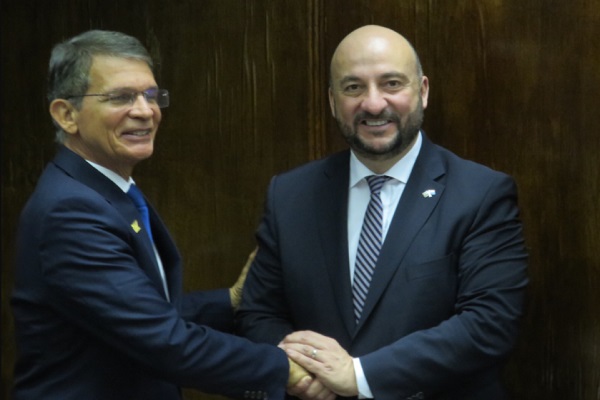 L-R: Joaquim Silva e Luna, Brazilian Minister of Defence; Etienne Schneider, Deputy Prime Minister, Minister of the Economy, Minister of Defence; Credit: MECO
The space sector was at the heart of discussions between Etienne Schneider and members of the Brazilian Government during the former's last day in Brazil yesterday.
On 5 April 2018, during the last day of his working visit to Brazil, Luxembourg Deputy Prime Minister, Minister of the Economy and of Defence, Etienne Schneider, went to Brasilia to meet several members of the Brazilian Government in order to develop economic and political relations between the two countries.
On this occasion, Etienne Schneider met with Gilberto Kassab, Minister of Science, Technology and Communication of Brazil, to study potential cooperation between Brazil and Luxembourg in the framework of the SpaceResources.lu initiative. Welcoming Luxembourg expertise and initiatives in the space sector, the Brazilian delegation expressed its willingness to collaborate with Luxembourg in space activities, in particular through the Brazilian Space Agency and the National Institute for Space Research. The Brazilian authorities also discussed future satellite projects worth several hundred million euros of investment of real interest to Luxembourg companies such as SES, the world's leading satellite operator based in Betzdorf.
After being greeted with military honours, Deputy Prime Minister Etienne Schneider met with Brazil's Minister of Defence Joaquim Silva e Luna for a working meeting. The two ministers identified the possibility of cooperation through the public-private joint venture, GovSat, whose first GovSat-1 satellite has been operational since March 2018. As part of Brazil's participation in sustaining operations the UN, the Brazilian government could acquire GovSat satellite capabilities.
Finally, during his meeting with his Brazilian counterpart in charge of Industry and Foreign Trade, Marcos Jorge de Lima, Etienne Schneider spoke of the potential for economic partnerships between Luxembourg and Brazil. The exchange of views also focused on the draft trade agreement between the European Union and the Mercosur countries (Brazil, Argentina, Paraguay and Uruguay).