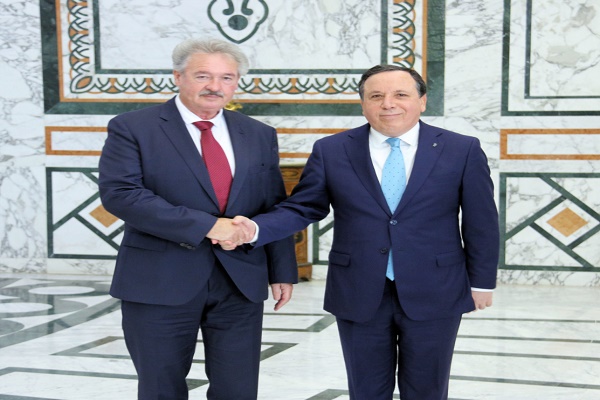 Jean Asselborn with Tunisian Foreign Minister Khemaies Jhinaoui; Credit: (c) MAEE
Luxembourg Minister of Foreign and European Affairs Jean Asselborn travelled to Tunisia yesterday on a working visit.
At the invitation of the Minister of Foreign Affairs of Tunisia, Khemaies Jhinaoui, Minister Jean Asselborn undertook a working visit to Tunis on 6 February 2018. After meeting with his Tunisian counterpart, Minister Asselborn also met with Tunisia's Head of Government, Youssef Chahed.
Minister Asselborn's talks with the Tunisian authorities were an opportunity to renew the full support of Luxembourg to Tunisia which, since its revolution in 2011, is a pioneer country in the region in terms of democracy and respect for Tunisian law.
The exchanges of views allowed to address in detail the situation in Tunisia and the main challenges that the country faces, in particular the security situation and youth unemployment. On bilateral relations, Minister Asselborn expressed Luxembourg's readiness to continue to support the country in its reforms and to further strengthen economic cooperation, notably through training in financial services, through the development of microfinance and support in the field of the digital economy and information and communications technologies.
In terms of Tunisia's relations with the European Union, the positive role of the European Investment Bank was underlined. Tunisia's efforts to implement the Financial Action Task Force (FATF) Action Plan, the Comprehensive Free Trade Agreement (CAFTA) negotiations and the Air Services Agreement between the EU and Tunisia were discussed.
The talks also made it possible to take stock of relations between Tunisia and its neighbours. Referring to the Benelux experience, Jean Asselborn encouraged the resumption of cooperation between the countries of the region: regional integration would indeed re-launch mutually beneficial trade between the Maghreb countries.