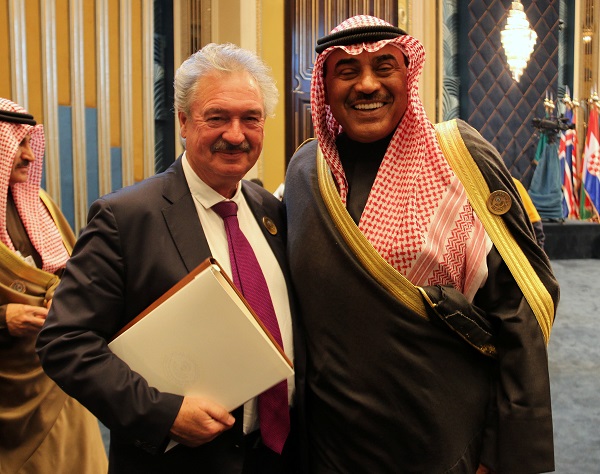 (L-R) Minister Jean Asselborn; Sheikh Sabah Khalid Al-Hamad Al-Sabah, Deputy Prime Minister, Minister of Foreign Affairs of Kuwait; Credit: MAEE
Luxembourg's Minister of Foreign and European Affairs, Jean Asselborn, was in Kuwait on Tuesday to attend the ministerial meeting of the world coalition against Daesh (Islamic State), at the invitation of the Deputy Prime Minister and Minister of Foreign Affairs of Kuwait, Sheikh Sabah Khalid Al-Hamad Al-Sabah.
The consolidation of successes in the fight for the liberation of Iraq and Syria from the control of the Islamic State as well as the positioning of the global coalition for the next phase of sustainable defeat of Daesh were at the centre of the debates of the ministers who discussed the means available to the coalition to prevent a resurgence of Daesh in Iraq and Syria, promoting stabilisation, reintegration and rehabilitation.
The meeting was an opportunity for Luxembourg's foreign minister to recall that Luxembourg has supported Iraq in the fight against Daesh, notably through the financing of demining activities managed by the United Nations Mine Action Service (UNMAS) in Mosul.
While in the territories recaptured from Daesh, contamination by explosive remnants of war poses a significant risk to the civilian population, this Luxembourg contribution - which relates more specifically to post-conflict actions in Iraq - thus intends to support the stabilisation process in Iraq and the return of displaced persons to areas previously occupied by Daesh through the clearance of conflict-affected areas.
The Grand Duchy has also contributed to the fight against improvised explosive devices (IEds), and will continue its engagement through a new demining project in Iraq, through the Defense Strengthening Initiative (DCB) of NATO.
"In order to destroy Daesh in the long term and prevent it from re-emerging, a comprehensive political agreement between all components of Iraqi society is needed," said Minister Asselborn, adding "thus, Iraq can put in place an inclusive governance system that reflects the religious and ethnic diversity of its population."
Noting that although Daesh has been defeated in Iraq, the organisation continues to exist on the other side of the border, and as fighting intensifies, particularly in the Syrian regions of Afrin, Idlib and Eastern Ghouta, Minister Asselborn insisted that there is no military solution. "Only a political process led by the Syrians, under the auspices of the United Nations, in accordance with the provisions of Security Council resolution 2254 and the principles of the Geneva communiqué, will bring peace and stability to Syria", he said. "it is this inclusive political process that will create the necessary conditions for the eradication of Daesh".​