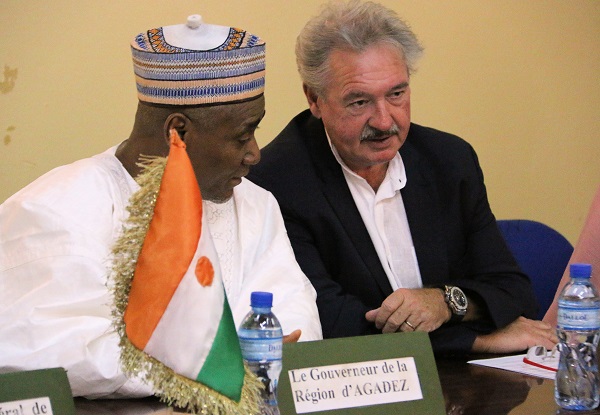 Minister Jean Asselborn with the Gouvernor of Agadez in Niger; Credit: MAEE
On Wednesday 7 February 2018, Luxembourg's Minister for foreign and European Affairs, Jean Asselborn, traveled to Agadez, the largest region of Niger, to see the situation in terms of security, development and migration.
The day began with a meeting with the Governor of Agadez, the mayor and the prefect. They confirmed that the security situation in the region is calm.
Minister Asselborn and his delegation were then received by the Sultan of Agadez, who explained the functions of mediator and spiritual authority that he plays for the Tuareg community of Agadez.
The highlight of the trip was the visit of the transit centre managed by the International Organization for Migration (IOM) in Agadez. Its officials explained that the centre currently hosts 729 migrants who are waiting to be repatriated to their home countries, after an often painful migratory journey that has taken them to Libya and Algeria. Nationals from 19 countries are currently in the transit centre; the most numerous come from Sudan, Mali and Guinea Conakry. Minister Asselborn was able to witness the process of identifying a young Cameroon migrant and receiving explanations on the psychological support and assistance to the reintegration of migrants.
The visit also saw training activities in market gardening techniques, particularly the cultivation of onions and tomatoes, as part of a project financed by the EU Trust Fund for Africa and implemented by the Luxembourg Agency for Development Cooperation, Lux-Development. This project aims to contribute to the economic development of the regions of Agadez and Zinder by supporting the training and professional integration of both girls and boys. Currently 860 young people attend these training courses in Agadez, the goal by 2019 is to train a total of 6,000 young people.
The authorities of Agadez were grateful for the support of the Luxembourg Cooperation, not only in the field of vocational training, but also in the field of water and sanitation: 31 boreholes were completed in nine municipalities of the region. For his part, Minister Asselborn praised the efforts of the Nigerian authorities to combat illegal migration and smuggling while treating migrants in full respect of their human dignity and human rights.
During his visit to Agadez, Minister Asselborn went to the local office of the European Union mission EUCAP Sahel, along with the Luxembourg commissioner who took part in this mission. Through its action, EUCAP Sahel strengthens the capacity of Niger's internal security forces, an important element to improve the functioning of the state, also in the fight against illegal migration. Luxembourg supports EUCAP Sahel through the provision of personnel and the financing of equipment such as vehicles and mobile garages.
A visit to the artisan village of Agadez, also set up with the support of Luxembourg, concluded this visit rich in lessons on the reality of the ground in a region at the crossroads of migratory routes, between the Western Africa and North Africa.​