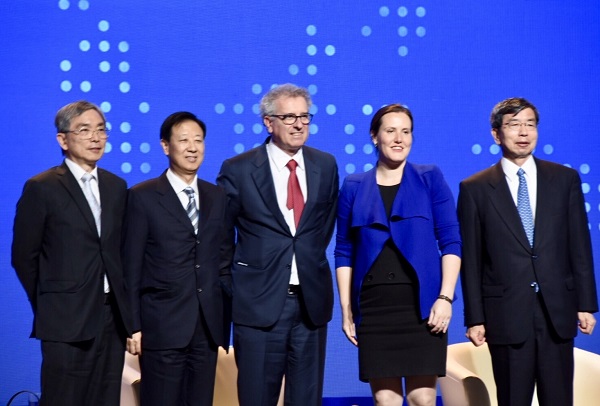 (L-R): James Lau, Secretary for Financial Services and Treasury; Dr. Jiang Yang, Vice Chairman, China Securities Regulatory Commission; Pierre Gramegna, Minister of Finance; Kelly O'Dwyer MP, Minister for Revenue and Financial Services, Australia; Takehik; Credit: MFIN
On Monday 15 January 2018, Luxembourg's Minister of Finance, Pierre Gramegna, participated as a speaker at the 11th edition of the Asian Financial Forum (AFF), the largest international conference on finance in Asia to which nearly 3,000 visitors were registered to attend.
This is his third participation as a speaker in this event in four years. In his presentation on the initial topic of the conference "Steering Growth and Pioneering Innovation: Asia and Beyond", Minister Gramegna discussed the opportunities and challenges of new technologies for the future development of the financial industry, and identified Green Finance and Fintech as the two most promising pillars for growth in the coming years.
On the sidelines of the forum, the Minister had bilateral meetings with Takehiko Nakao, President of the Asian Development Bank (ADB), Huaibang Hu, President of the China Development Bank (CBD) and with Liqun Jin, President of the Asian Investment Bank for Infrastructure (AIIB). Witnessing the importance that the Minister attaches to Luxembourg's role in development banks, these meetings have made it possible to reflect on expanding the scope of collaboration.
On Tuesday 16 January 2018, the Minister met with his new counterpart, Paul Chan Mo-po, and Secretary for Financial Services and the Treasury, James Lau. This meeting was the perfect opportunity to discuss the latest developments in financial relations between the two jurisdictions. During his meeting with officials of the Securities & Futures Commission, the regulator of financial markets, the Minister discussed several avenues to further strengthen the links between the financial industries of Hong Kong and Luxembourg.
Finally, Minister Gramegna opened the seminar that ALFI organized on 17 January as part of its annual "Asia Roadshow". In his speech, Minister Gramegna notably underlined "the special relations that exist between our two fund industries", and mentioned the possibility of new synergies in the field of green finance and fintech.
Minister Gramegna commented "Today, nearly two thirds of the foreign funds distributed in Hong Kong are domiciled in Luxembourg, which illustrates the respective roles of the two jurisdictions, Luxembourg as a gateway to the European market, and Hong Kong as a gateway to the Chinese market. I am pleased to see a shared desire to strengthen this relationship."