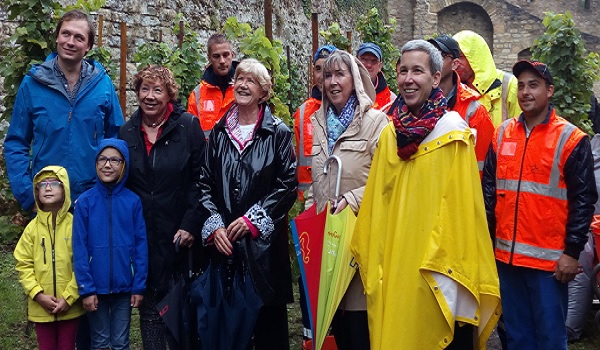 Lydie Polfer and the aldermen of the Ville de Luxembourg; Credit: Jazmin Campbell
Today, 13 September 2017, the Mayor and Aldermen of the Ville de Luxembourg (VdL) visited the vineyards of the gardens of the former Abbaye de Neumünster (Klouschtergaart) for the annual grape harvest.
In 2004, as part of its partnership with the "Landesgartenschau" in Trier, Luxembourg City repaired these terraced gardens and once again cultivated vineyards and medicinal plants, alongside the vegetable crops that had always been grown there. In the vineyard with an area of ​​about 4 ares is a cultivated area of Luxembourg vines (Elbling, Rivaner, Pinot, mixed…) according to the old method, i.e. each vine is cultivated individually.
The Klouschtergaart garden, belonging to the VdL and originally planted by the Institut Viti-Vinicole with grape plants from Joseph Pauly, is dedicated to agro-biodiversity and the conservation of traditional Luxembourg plant species: the sustainability of native plants is ensured by harvesting the seeds that become resistant thanks to years of hard work and a microclimate at the foot of the Bock Promontory.
Present alongside the Mayor of Luxembourg City Lydie Polfer at this year's harvest were the aldermen/women Sam Tanson, Simone Beissel, Colette Mart and François Benoy.