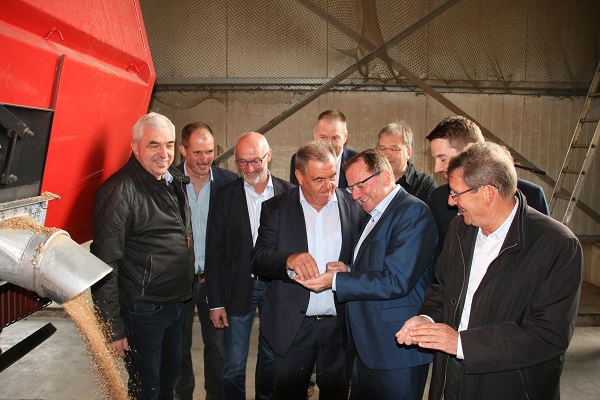 (L-R): Carlo Hess (Président LSG), Guy Schmit (Vice-président LSG), Marc Fisch, Ali Kaes, Minister Fernand Etgen, Steve Turmes (Directeur LSG), Gusty Graas; Credit: MAVPC
On tuesday, Luxembourg's Minister for Agriculture, Viticulture and Consumer Protection, Fernand Etgen, visited Luxembourg's seed co-operative in the Agerscent Centre in Mersch to discover for himself the results of the 2017 grain harvest.
After visiting, Minister Etgen, together with LSG Director Steve Turmes, discussed the 2017 harvest. The year 2016/2017 was characterised by extreme dryness in the spring and early summer. In addition, the precipitation distribution in 2017 varied regionally. Due to the dry weather conditions, the crop of 2017 was 10 to 15 days earlier and cereals were generally harvested dry.
Consequently, the quality of the crop, above the summer grain, was above average. The yields, however, were very heterogeneous in terms of dryness, depending on soil conditions as well as rainfall distribution, and the average country average. Especially in summer cereals and in the south of the country, due to the lack of precipitation, there were considerable losses in earnings.
Minister Etgen stressed that regionally, enormous earnings fluctuations are also an indication of climate change. He pointed out that the conclusion of harvesting insurance schemes is a very probable tool for insuring agricultural crops against the risks of extreme weather conditions and therefore financially supported by the Ministry of Agriculture.
Serge Turmes addressed producer prices in the cereal market and added that cereal prices have not developed satisfactorily in 2017. In the end, 2017 was a difficult year for cereal farmers.