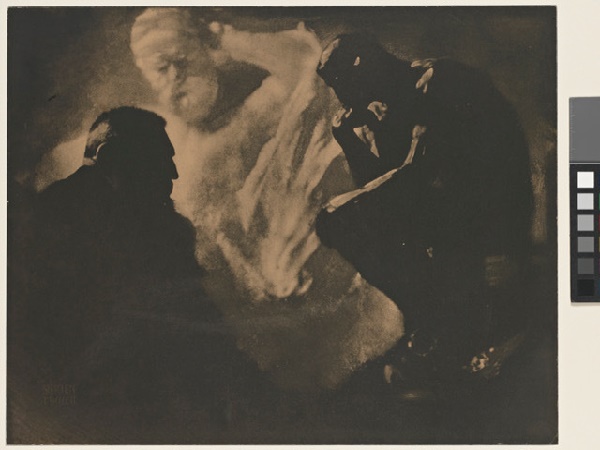 Rodin-Le Penseur; Credit: © Edward Steichen/ADAGP Paris
An exhibition illustrating the friendship between Luxembourg-born US photographer Edward Steichen and Auguste Rodin will be presented from 27 February to 25 March 2018 at the Musée Rodin in Paris.
On the occasion of the next state visit to France of Their Royal Highnesses the Grand Duke and the Grand Duchess of Luxembourg, a series of photographic prints made for the exhibition and objects that belonged to Edward Steichen, tracing his artistic dialogue with Rodin, is taking place in Paris.
The exhibition "Steichen / Rodin: a dialogue" is the reflection of a story of friendship between two men, a photographer and a sculptor, an American of Luxembourg origin and a Frenchman, in the capital of art in the early twentieth century.
Auguste Rodin played a key role at the beginning of the artistic career of young photographer Edward Steichen, 39 years his junior. According to Steichen's memoirs, it was Rodin's admiration for him that brought him to Paris. As for Rodin, he saw in Steichen a talented artist who allowed him to reveal one of his most misunderstood works, the statue of Balzac, and often paid homage to his work.
During his career, Steichen has also played an important role as a cultural intermediary between Europe and the United States, not only by bringing new photography techniques from one continent to another, but also by presenting European modernity to the American public in the magazine Camera Work, and through the organisation of exhibitions of European artists (Cézanne, Picasso,
Several public collections in Luxembourg bear witness to Steichen's prolific work as a photographer and curator for the Museum of Modern Art (MoMA) in New York.