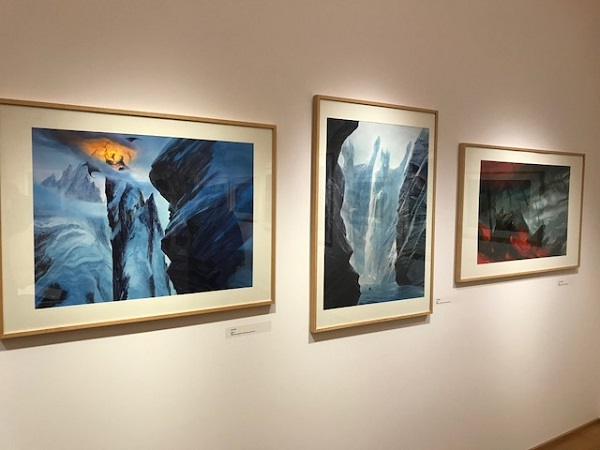 the Tolkien Expo the Cercle Cit: Ratskeller;
$On Thursday evening, the Ratskeller at the Cercle cité in Luxembourg city centre saw the vernissage of the new exhibition to coincide with the opening of the 8th annual Luxembourg City Film Festival on 22 February.
The exhibition entitled "There and Back again, Tolkien's vision and beyond" will be open until 18 March 2018 in the Ratskeller. Curated by Gilles Francescano, this exhibition is being organised in the framework of the Luxembourg City Film Festival in collaboration of the Imaginales d'Epinal Festival, in the Vosges.
Through more than forty original drawings by John Howe, who attended the vernissage in person, thirty of them are part of his work on Tolkien's universe, while the others present the world of fantasy of the artist.
John Howe is a contemporary artist working in the entertainment industry, and above all he loves history and stories. His timeless approach to his surroundings seems to stem from an ancient soul who has come to us to tell us our story. John Howe's fantasy realism is rooted in his love of the Middle Ages, its artefacts and reconstitutions, and invites us on a journey through time, allowing us to rediscover epic stories filled with legends, historical or imaginary characters, fantastical beasts and excessive architecture. Between his work for Peter Jackson's films, his illustrations for the worlds of authors like Tolkien and Robin Hobb and his own research, John Howe lays the groundwork of a fantastic epic that will influence the dreams and nightmares of the children that we are for a long time to come.
Embark upon a journey to the edges of the Shire, rub shoulders with Gandalf, walk alongside the Fellowship or tremble during the Siege of Minas Tirith, guided by the hand of John Howe and by his pencil, under the watchful eye of the cheerful elf hiding behind his beard.
The exhibition is under the patronage of the Embassy of Canada in Belgium and in Luxembourg.​