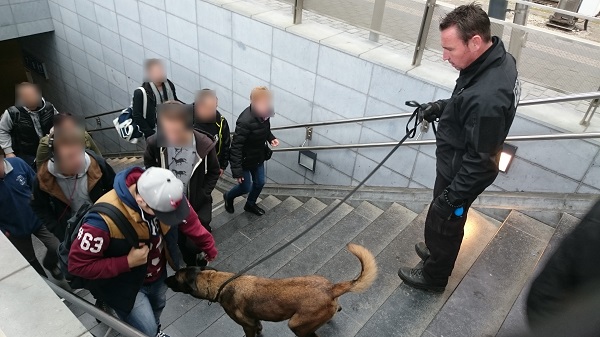 During a lunchtime police inspection carried out on 13 and 14 October 2015 at the Gare Centrale, five incidents of possession of Class A and Class B drugs were reported.
The inspection was carried out in collaboration with the Société Nationale des Chemins de Fer Luxembourgeois (CFL), involving officers and the canine unit of the Gare-Hollerich police department.
On Tuesday 13, drug searches conducted in train carriages with sniffer dogs unearther 9.1 grams of marijuana, 5.1 grams of hashish and a small amount of cocaine which were promptly seized.
A subsequent check on the following Wednesday morning, conducted with officers from various departments and the canine unit, prompted the discovery of two joints, a piece of hashish as well as drug paraphernalia following a body search of a passenger in the region of Esch-sur-Alzette.
Later that same morning, two more joints were discovered and seized from another passenger.
Photo by Police Grand Ducale