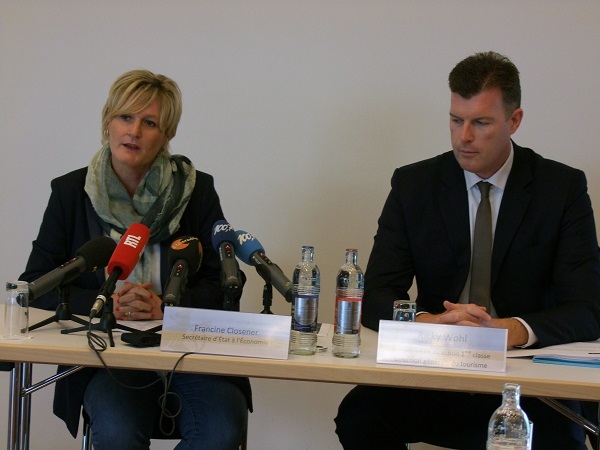 On Thursday lunchtime, Luxembourg's Secretary of State of the Economy, Francine Closener, made a mini-tour of some of Luxembourg's toursit attractions and held a press conference to announce statistics of Luxembourg's tourism industry for the first half of 2016.
Earlier in the day, Secretary of State Closener visited the outdoor swimming pool in Rédange and the Krounebierg campsite in Mersch, with a visit planned to the Ourdall Promenade in Vianden after the lunchtime press conference.
The statistics for the first half of 2016 show that there was a 2.1% increase in the number of nights spent in hotels, amd a 0.8% increase in the number of nights spent at youth hostels. while the number of people arriving at campsites in the Grand Duchy during the first six months of 2016 has risen by 8%, the number of nights spent camping fell by 6.9%: this was primarily due to the storms and flooding experienced at camp-sites.
In a breakdown of the 2.1% rise regarding hotels, those nights classified as leisure/tourism increased by 6.6%, with MICE (Meetings, Incentives, Conferences and Exhibitions) fell by 6.4%. Traditional "business tourism" figures rose by 1.7%.
Regional variations show that hotel nights in the Moselle region rose by a significant 26.2%, with a modest 1.9% increase in the centre and 0.3% in the south, with a 8.9% drop in the Ardennes and a 1.1% drop in the MPSL region. However, all figures for May and June showed a fall on 2015 figures for the same period.
In examining the origin of tourists staying in hotels, those from the US fell 24.3% and from China fell 10.2%, with modest growth in figures from France (3.9%), the UK (1.6%), The Netherlands (1.7%) and Belgium (1.3%).
The tourism industry in the Grand Duchy has been able to measure the effects of recent marketing activities, with 36% of new visitors to campsites reported in H1 2016, compared to 28% in 2015. However, the percentage of first-time visitors to Luxembourg who staying hotels fell to 34% compared to 35% in 2015.
The top two tourism attractions in Luxembourg both saw a drop in visitor numbers in H1 2016, with Luxembourg city guided tours falling 4.6% to 115,000 and Parc Mervielleux visitors falling 26.3% to 102,217 for the same period. Despite these figures, those for the 3rd to 6th most popular tourist attractions all rose: Chateau de Vianden (up 4.3% to 56,433), Casemates (up 2.1% to 53,709), MUDAM (up 2.9% to 41,388) and the mullerthan (up 0.5% to 38,675).
Photo by Geoff Thompson (L-R): Secretary of State Francine Closener; Ricky Wohl, Ministry of the Economy, tourism directorate