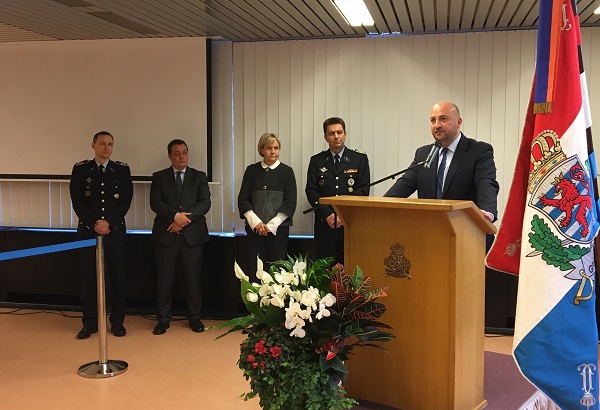 On Tuesday 10 January 2017, Luxembourg's Minister of Homeland Security (Sécurité intérieure), Etienne Schneider, announced another phase in the ongoing reform of the Grand Ducal Police, the establishment of eight municipal police commissariats; the announcement was made at the New Year's reception of the Grand-Ducal Police.
The announcement will mean the creation of several partnerships between local police stations established in neighbouring municipalities in order to optimise staff resources and offer a better service to citizens.
The eight municipal commissariats will be operational from Wednesday 11 January 2017:
• Bertrange-Strassen: commissariat Porte de l'Ouest
• Rédange-Rambrouch: commissariat Atert
• Grosbous-Heiderscheid: commissariat Turelbaach
• Wiltz-Bavigne: commissariat des Ardennes
• Hosingen-Clervaux: commissariat Ourdall
• Larochette-Junglinster: commissariat de l'Ernz
• Wormeldange-Grevenmacher-Wasserbillig: commissariat Museldall
• Roeser-Bettembourg: commissariat Réiserbann
"Close to the citizen, visible, available and efficient" are, according to Minister Étienne Schneider, the slogans underlying these pilot projects which are part of the reform of the Grand Ducal Police. The minister said that "thanks to the more adapted personnel of the new units, their operation will be optimised, allowing them to increase the presence of the officers on the ground. The size of the reorganised units and the extended hours of operation will make it possible to ensure a police presence during sensitive hours, that is to say in the early morning, late afternoon and early evening when the police are more in demand. The service to the citizen will be improved."
The Deputy Prime Minister and Minister of Homeland Security, also said "Municipal Police are the concrete expression of the territorial reorganisation announced as part of the reform of the Police. In order to ensure effective and sustainable implementation of the reform, it is essential to have strategic planning in line with the long-term development of our country. Comprised of representatives from the Ministry of Homeland Security, the Police and other ministries, a working group will soon be set up to develop strategic planning for the next 10 years."
The "Porte du Sud" pilot project, which provides for the merger of the commissariats of Schifflange and Mondercange, was recently inaugurated. It is the first "new generation" police station as conceived within the framework of the reform of the Police.
In 2016, representatives of the police organised individual meetings with the local authorities of municipalities more directly concerned with the project of regrouping police stations and had submitted to them the different options envisageable, namely to accept a merger, to form a "community of police stations" Which nevertheless remain located on different sites during a trial period or, lastly, keep the status quo.
Photo by MSI (L-R): Donny Donven, directeur général adjoint de la Police grand-ducale; Frank Reimen, Ministère de la Sécurité intérieure; Monique Stirn, inspecteur général de la Police; Philippe Schrantz, directeur général de la Police grand-ducale; Étienne Schneider, Vice-Premier ministre, ministre de la Sécurité intérieure