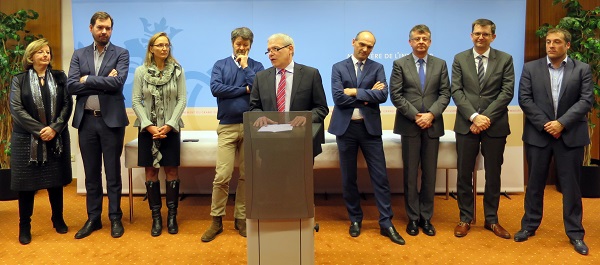 On Wednesday 11 January 2017, Luxembourg's Minister of the Interior, Dan Kersch, hosted the traditional New Year reception at the Ministry of Interior; in addition to officials from the Ministry of the Interior, the Minister welcomed the presence of representatives of Syvicol, FGFC, OGBL, LCGB, FNCTTFEL Landesverband and Syprolux, as well as delegations from the National Federation of Firefighters, the Committee of Elders and the Administration of Rescue Services.
During his retrospective of 2016, Minister Kersch first spoke of the bad weather in July in the Ernz valley while stressing the spirit of solidarity of the population in general and the inexhaustible commitment of the services In particular.
In addition to the enactment of the law on the identification of natural persons and the amendment to the legislation on "fabriques d'église" (Church instrastructure committees), the minister focused on municipal finance reform, which finally became a reality.
Turning to forecasts for the year 2017, the minister announced, among other things, the implementation of the reform of the status of civil servants and municipal employees, the reform of the legislation regarding Church instrastructure and especially the reform of the rescue services. The creation of a Grand-Ducal Fire and Rescue Corps (CGDIS) as a new structure for the reception of emergency services will enable an integrated, effective and efficient management of all aspects concerning the organisation of rescue services.
Photo by MINT (L-R): Mariette Redlinger, secrétaire particulière du ministre; Marc Thiltgen, Direction du contrôle de la comptabilité communale; Clara Muller, Direction des finances communales; Arno Van Rijswijck, Direction de l'aménagement communal et du développement urbain; Dan Kersch, ministre de l'Intérieur; Laurent Deville, coordination générale; Laurent Knauf, coordination générale; Alain Becker, Direction des services de secours; Cyrille Goedert, Direction du conseil juridique au secteur communal