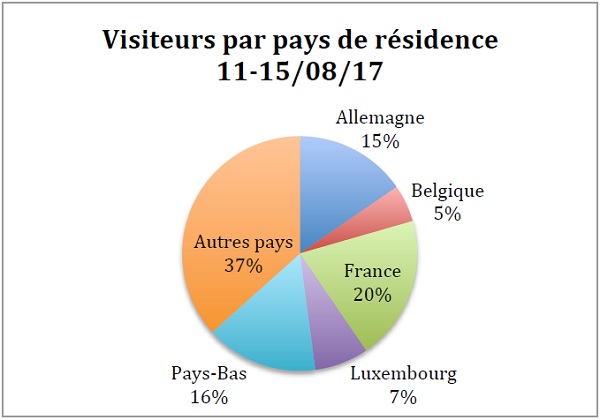 The Luxembourg City Tourist Office (LCTO) has announced that the number of tourists recorded in the capital reached a peak over the 5 days betwee 11 and 15 August 2017; while not quite matching the record numbers in 2013, the figures were very positive.
The Streeta(rt)nimation festival, held on 11 and 12 August by the LCTO in close collaboration with the Ville de Luxembourg, was once again very popular with the public despite the unfavourable weather conditions on Saturday.
Over the five days, the LCTO teams gave advice to 7,284 people on tourist attractions and events in the city, with a peak of 1,909 on Saturday. The country of residence of visitors was revealed as: France 20%, the Netherlands 16%, Germany 15%, Luxembourg 7%, Belgium 5%, and 37% for other countries.
At the Bock casemates, the record day of Saturday saw 1,878 visitors, while the other days also showing very positive numbers.
Most of the 42 visits to the Palais Grand-Ducal were full, while in addition 93 guided tours were organised by the LCTO.