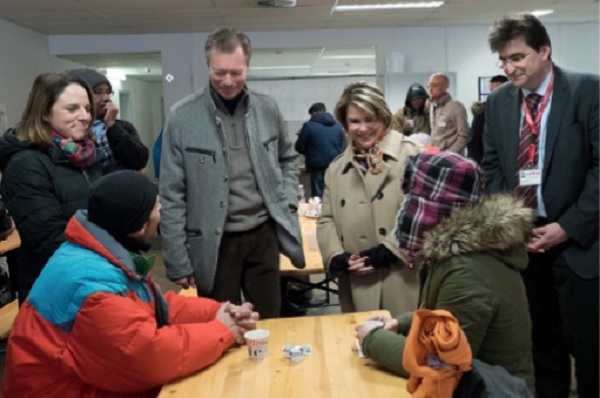 (L-R): Corinne Cahen, Minister of the Family Grand-Duke Henri; Grand Duchess Maria Teresa; Charel Schmit, president Caritas Home and Solidarity; Credit: © Cour grand-ducale / Claude Piscitelli
On Saturday 3 March 2018, Their Royal Highnesses the Grand Duke and the Grand Duchess visited the Findel night shelter, accompanied by Corinne Cahen, Luxembourg's Minister of the Family, and officials of Caritas Luxembourg.
At breakfast time, the Grand-Ducal couple shared a moment of conviviality with those present and took the opportunity to talk with the homeless who spent the night at the shelter, as well as with the volunteers. They also assisted with the distribution of meals and the organisation of activities for the beneficiaries.
The goal of the "Wanteraktioun" is that no one will sleep on the street when winter temperatures arrive. It was initiated by the Ministry of the Family in 2001. A hundred people in all (professionals and volunteers together) engage in the framework of the "Wanteraktioun".