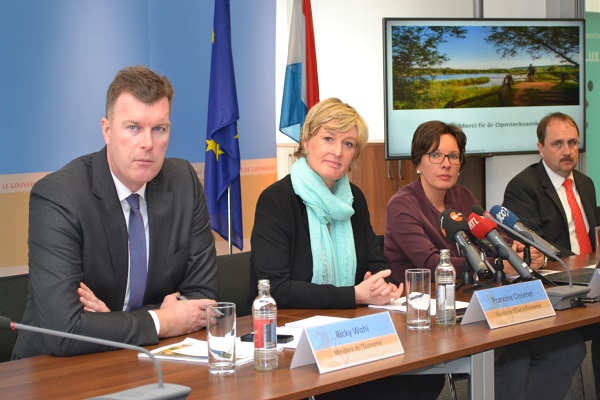 L-R: Ricky Wohl, Ministry of the Economy; Francine Closener, Secretary of State for the Economy; Anne Hoffmann, Director General of Luxembourg for Tourism; Romain Weber, President of Luxembourg for Tourism; Credit: MECO
The Luxembourg tourist sector reached new growth levels last year with over 3 million overnight stays recorded by the Luxembourg for Tourism Agency (LfT).
The Luxembourg Secretary of State for the Economy, Francine Closener, today presented the tourist report of the past year, based on the surveys carried out and the figures provided by the Luxembourg for Tourism Agency (LfT).
With more than 3 million overnight stays for all accommodation sectors, the 2017 tourism report kept in line with the growth of the sector in previous years. The hotel industry recorded an increase in overnight stays of 4%, campsites reached 1 million overnight stays (+4%) and youth hostels saw an increase of 12%- is due to the opening of the new hostel in Esch-sur-Alzette.
On the whole, the 6 tourist regions of Luxembourg showed positive results. The City of Luxembourg (+5.9%) and the South regions (+6.1%) experienced the largest increase in overnight stays. Meanwhile, the regions of Ardennes (+4.2%), Moselle (+3.7%), Mullerthal (+1.3%) and the Guttland (+1.2%) regions also experienced a positive evolution.
Tourists from neighbouring countries and the Netherlands remained the most represented in the Grand Duchy. After a sharp decline in 2016, a recovery is noted in 2017 for tourists from more distant countries, particularly for travellers from China (+9%), the United States (+9%) and Japan (+8%).
Moreover, the various tourist attractions in Luxembourg attracted many visitors in 2017. The castle of Vianden, for instance, welcomed 181,825 visitors (+5.9%) and the Mudam recorded 99,865 visits (+2.9%) last year. Likewise, the Mullerthal Trail was a great success in 2017, with 149,138 hikers having taken the trail- representing an increase of 41%.