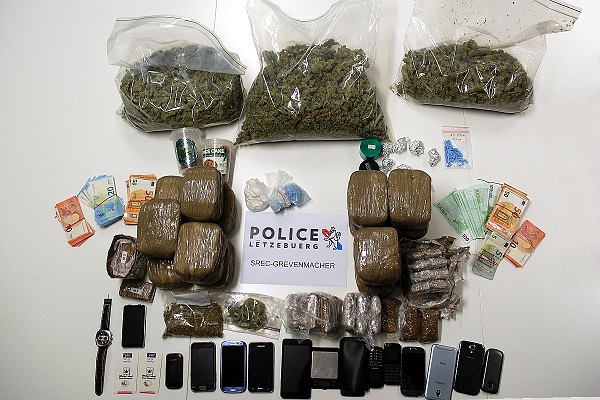 Drugs haul from raids in south and east of Grand Duchy; Credit: Police Grand Ducale
Police officers working at the SREC Grevenmacher have managed a major strike against drug crime, culminating in the arrest of five people and the confiscation of a quantity of illegal drugs.
On Monday 12 March 2018, following an investigation lasting several months, under the orders of an investigating judge, the Grand ducal Police carried out a series of house searches in the east and south of the country.
A total of 15.3 kilograms of hashish, 2.8 kilograms of marijuana, 100 grams of cocaine and almost 200 ecstasy pills were discovered and confiscated. Furthermore, about €17,000, several mobile phones and three cars were seized.
In the course of the searches, three men and two women were arrested and brought before the examining magistrate.