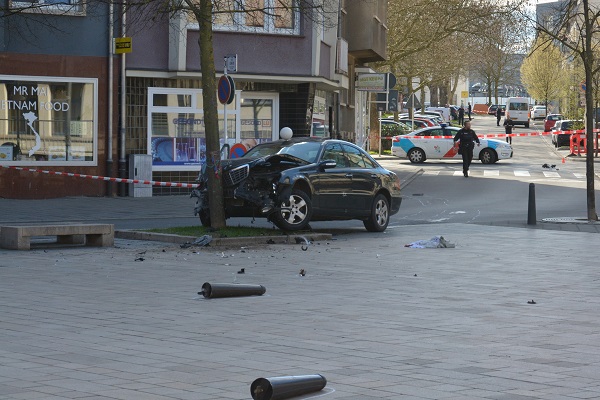 Scene of Bonnevoie fatal incident; Credit: Police Grand Ducale
On Wednesday afternoon, a motorist died from being shot by police after trying to run down a police officer.
Shortly after 16:00, a police patrol in Luxembourg became aware of a vehicle which attracted attention by its driving behaviour, in the rue des Ardennes in Bonnevoie.
One of the officers got out of the patrol car and gave clear hand signals for the driver to pull over to the side of the road. The driver accelerated, however, and drove at the police officer from close range. The officer used his service weapon and the driver, the sole occupant of the vehicle, was hit, whereupon he lost control of his vehicle, brushed against a wall and came to rest against a tree on Place Léon XIII.
Unfortunately, he succumbed to his injuries during the late afternoon, and died in hopsital.
The Public Prosecutor visited the scene of the incident and commissioned the General Inspectorate of the police with undertaking an investigation into the circumstances surrounding the incident. The police forensics team also attended the scene, as did Luxembourg's emergency fire services and an emergency doctor.​