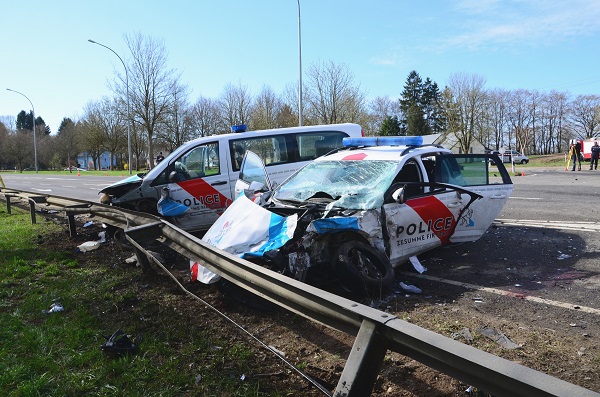 Fatal Accident on N7; Credit: Police Grand Ducale
In the early hours of Saturday morning, a Luxembourg police officer died as a result of a crash on the N7; a second police officer is in serious condition in hospital.
The accident happened shortly before 02:00 on the N7 near Lausdorn (close to Clervaux in the north of the Grand Duchy). Following an incident in which a motorist evaded a traffic control in Weiswampach, two police patrols followed in pursuit of the car which travelled along the N7. At a certain moment, close to Lausdorn, one of the police vehicles was involved in a turning manoeuvre which resulted in a collision with the second patrol vehicle.
Two police officers were critically injured in the accident; the officer who was the driver of one of the vehicles succumbed to his injuries at the scene of the accident. A second police officer, who had been a passenger in this vehicle, was taken to hospital with severe injuries, where she was operated on. Three other police officers from the second vehicles suffered minor injuries and were also hospitalised for treatment.
The car of which the police were in pursuit evaded capture. However, following an investigation ordered by the public prosecutor, the driver was subsequently identified and was later arrested and is to appear before a judge at the courts in Diekirch on Sunday afternoon.
The accident site was completely closed to traffic for the duration of the rescue and recovery work and reopened at around 13:00 on Saturday.
Luxembourg's Deputy Prime Minister, and Minister for Defence, Etienne Schneider, has sent a letter of condolence to the family of the police officer who lost his life in the line of duty.​