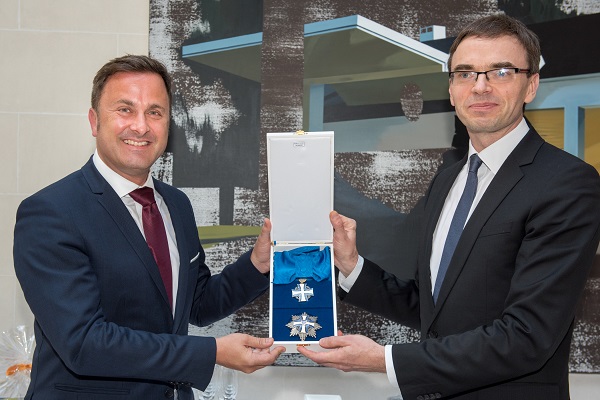 (L-R): Luxembourg Prime Minister, Xavier Bettel; Sven Mikser, Foreign Minister of Estonia; Credit: © SIP / Charles Caratini, tous droits réservés
On Monday 16 April 2018, Luxembourg's Prime Minister and Minister of State, Xavier Bettel, was awarded the Order of the Terra Mariana Cross of the Republic of Estonia by Estonian Foreign Minister Sven Mikser at the hôtel des Terres Rouges in Esch.
The Cross of the Order of Terra Mariana is the most prestigious Estonian order that can be awarded to a foreigner and is reserved for people who have rendered outstanding service to Estonia. Prime Minister Bettel was decorated with this order for his commitment to the construction of Europe in general and, more particularly, to the relations between Estonia and Luxembourg.
"It is a great honour for me to be decorated with the Cross of the Order of Terra Mariana," said Xavier Bettel and continued: "This order is a testament to the great friendship and exemplary relations that exist between Estonia and Luxembourg."
PM Bettel said that Estonia and Luxembourg are working for the same cause, which is to make the European Union more efficient for the good of its citizens.
"Luxembourg has the very first e-Embassy in the world and we are very proud of it. This e-Embassy hosts data from the Republic of Estonia on Luxembourg soil" said the Prime Minister, stressing that this gesture is a pledge of confidence that demonstrates the excellent relations between the two countries.
Finally, Xavier Bettel congratulated the Republic of Estonia for the centenary of its independence. "As a friend, partner and ally, we are happy to celebrate this anniversary with Estonia and its citizens," concluded the Prime Minister.