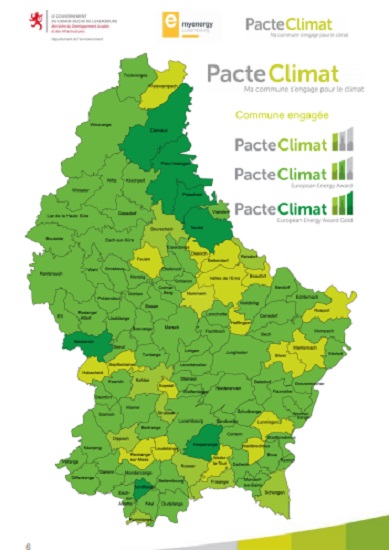 Credit: Ministry of Sustainable Development and Infrastructures
On Thursday 28 September 2017, Luxembourg held the fifth edition of its Climate Pact Day, organised by the Ministry of Sustainable Development and Infrastructures and myenergy.
The fifth Climate Pact Day presented the opportunity to reflect, together with many community leaders, on the achievements, the role of Agenda 2030 and the circular economy, and several innovative projects regarding Luxembourg's commitment to the fight against climate change.
Since June 2017, all the municipalities of Luxembourg are signatories to the Climate Pact and this year, the municipalities of Clervaux, Putscheid, Hesperange and Saeul were awarded their certification, bringing the number of certified communes to 86, ie 82% of the communes of the Grand Duchy. Such certification was rewarded to recognise the efforts, projects and teams in the respective municipalities, with the aim of reinforcing their exemplary role in climate policy "Think globally - act locally ", reducing greenhouse gas emissions and energy bills, and stimulating local and regional investments, in particular with regard to the implementation of the 2030 Agenda.
Moreover, the circular economy has entered into the Climate Pact this year. As a first step, the team in charge of the pact has identified the fields of communal activities relevant to the promotion of the circular economy: among them resource management, operational flexibility and awareness. Concretely, an additional catalogue has been drawn up, of which the two dozen measures are distributed over the six areas of the Climate Pact. To facilitate the work of the municipalities, work material was prepared in collaboration with the "hotspot" of the commune of Wiltz and Luxinnovation.
Another innovation of the year 2017 was the launch of the certification "Klimapakt Loftqualityit", which recognises the commitment of municipalities to improving air quality. To be eligible, the municipalities must reach a certain score on the level of the Climate Pact and make use of an emission calculator, applied to its fleet of vehicles. The municipality must demonstrate a lasting commitment to air quality and its efforts will be subject to verification and validation procedures in order to be certified. The year of the launch itself, it was the municipality of Hesperange that has been able to have certified its many measures.
Additionally, a new competition "Klimaconcours" was launched by the Oekozenter Pafendall and myenergy under the mandate of the MDDI. The competition aims to make more visible the activities of associations in the field of climate protection. It also rewards the flagship projects and gives the means to the municipalities to measure themselves among them.
Finally, the new INTERREG GReENEFF project and the modalities of participation of the municipalities were presented. Launched in 2016, this cross-border network supports the implementation and supervision of pilot projects in Saarland, Rhineland-Palatinate, Luxembourg, Moselle and Wallonia. The objective of this initiative is ecological development in the field of sustainable urban development of neighbourhoods (eco-neighborhoods) and social housing with high energy performance.