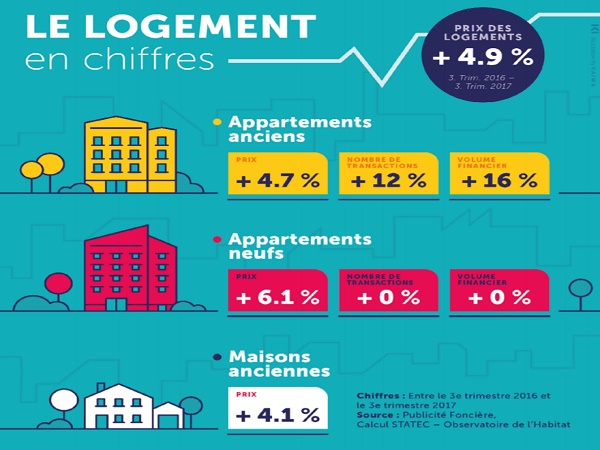 Housing price figures; Credit: Statec, Observatoire de l'Habitat
The price of an average house in Luxembourg has increased by 4.9% to €649,425 in the span of a year.
In its joint publication "Housing in Figures"- with the Department of Housing's Observatoire de l'Habitat- STATEC has used the latest available data on housing sales to reveal that the third quarter of 2017 saw a rise of 4.9% in house prices compared to the same period in 2016.
In the third quarter of 2017, the average price per m2 of existing apartments was €5,002/m2, having increased by 4.7%, whilst the price of apartments under construction was €6,316/m2- 6.1% more than in the previous year.
The most expensive regions for both existing and new apartments remain the centre-south with the highest prices found in Luxembourg City where it is on average more than €6,000/m2 for an existing apartment and over €7,000/m2 for a new one.
Finally, whilst the average price of a one-family home in the Grand Duchy has risen to €649,425, the average price for the canton of Luxembourg has gone up to €968,918 and the areas closest to the capital remain higher than those at a greater distance.