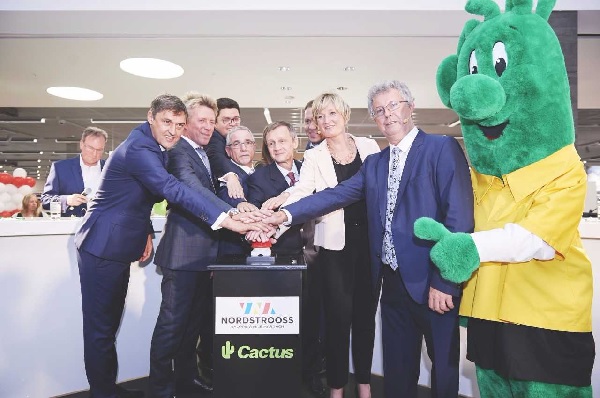 Inauguration of 'Nordstrooss Shopping Mile Marnach' in the presence of Francine Closener, Secretary of State for the Economy, and Emile Eicher, Deputy Mayor of the Commune of Clervaux; Credit: Cactus
On 27 September 2017, Cactus opened its new supermarket in Marnach, thus expanding its presence in the north of Luxembourg.
Along with the opening of the new shopping mall 'Nordstrooss Shopping Mile' in Marnach in the canton of Clervaux, there is also a new Cactus supermarket open for business.
The new Cactus Marnach offers a vast assortment of products on a surface of 2600 m². Emphasis is on the typical values ​​of the Cactus brand: proximity, a passion for the grocery business, a competent and welcoming customer service and a qualitative offer based on Cactus house production, fresh and local products. Out of the 52 employees at the new outlet, around 20 were engaged among the staff of the Carrefour Market as part of the reassignment of the site.
With the opening of its 22nd supermarket, Cactus has extended its presence in the north of the country, thus completing the convenience offer of Cactus Shoppi convenience stores already present in the region. The supermarket Cactus Marnach is located near the 'Nordstrooss' frequented by 15,000 cars a day.
The investment made by the Cactus Group on the Marnach site amounted to €7 million.
The new store will be open Monday to Sunday, from 8:00 to 19:00.