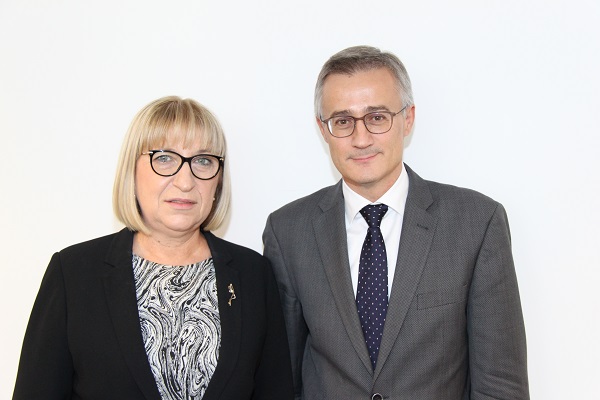 (L-R): Tsetska Tsatcheva, Bulgarian Minister of Justice; Félix Braz, Luxembourg's Minister of Justice; Credit: MJUST/Jeannot Berg
Following the approval by the European Parliament at its plenary session of 5 October 2017, the first item on the agenda at Thursday's the Justice Council in Luxembourg concerned the formal adoption by the Council of the Regulation on enhanced cooperation on the establishment of the European Public Prosecutor's Office.
Luxembourg's Minister of Justice, Félix Braz, underlined that the adoption of this regulation is a key step in the development of the European judicial area: "We have a very important role to play in maintaining citizens' trust in the European institutions and in the management of the Union. Our citizens need to be assured that fraud on European funds and VAT fraud in its cross-border dimensions are being pursued relentlessly."
He also underlined that Luxembourg will positively support the debate on additional competences of the European Public Prosecutor's Office.
Minister Braz invited the Member States which are not yet participating in this enhanced cooperation to join this initiative which pursues an objective of general interest and which is intended to extend throughout the Union. He also confirmed that Luxembourg as a host State would contribute to the concrete establishment of a strong European Public Prosecutor's Office.
He argued that it is necessary to anchor the Public Prosecutor's Office as a solid pillar in the field of criminal judicial cooperation, alongside Eurojust, which is already and must remain a key player in the fight against cross-border crime. He further explained that it was important for the two bodies to have at their disposal the financial and human resources necessary for the effective accomplishment of their respective missions.
At the Justice session of the JHA Council under the Estonian Presidency on 12 October 2017 in Luxembourg, Minister Braz held bilateral meetings with Nicole Belloubet, French Minister of Justice and Attorney General, Tsetska Tsatcheva, Bulgarian Minister for Justice and President of the Justice Council from 1 January 2018, and with Lord Chancellor, David Lidington, of the United Kingdom.
The ministers subsequently had an initial policy debate on the scope and type of decisions that should fall within the proposed regulation on the mutual recognition of decisions on freezing and confiscation
The Ministers also discussed the exchange of information on criminal records and criminal convictions of third-country nationals (ECRIS-TCN). The establishment of a centralised system, as foreseen by the Commission, should be designed in such a way as to avoid loopholes in cases of plurinationality.
As for the criminal offenses for which fingerprints must be registered in ECRIS TCN, Minister Braz opted for a proportionate solution.
In a joint session of the Ministers of Justice and Homeland Security, the topic of improving criminal justice in cyberspace was discussed.
Ministers also discussed the implementation of the regulation on the protection of personal data and the mid-term review of the JHA strategic guidelines.