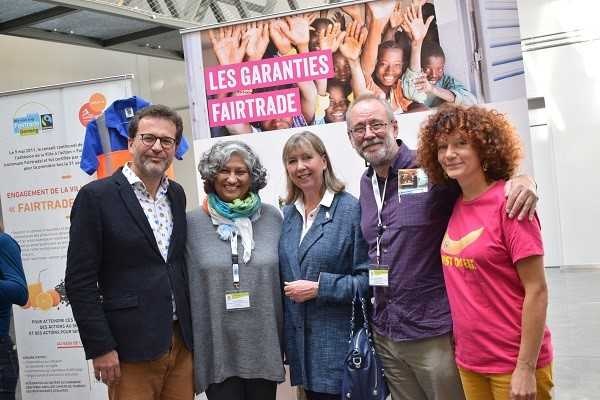 Jean-Louis Zeien, Anjali Schiavina, Lydie Polfer, Bruce Crowther, Valérie Murat; Credit: Fairtrade Luxembourg
Last Saturday, the movement Fair Trade Towns held one strand of its International Fair Trade Towns Conference (IFTTC) in Luxembourg City.
Since its creation in 2001, Fair Trade Towns, a movement bringing together activists to share their experiences and discuss challenges and opportunities, has launched in 2000 cities worldwide, including 28 Luxembourgish municipalities.
This past weekend, over 200 activists for fair trading practices took part in the 11th International Fair Trade Towns Conference organised in Saarbrucken by the QuatrroFair network, which includes Fairtrade Luxembourg.
Likewise, on Saturday of last week, a parallel triple programme took place in Luxembourg City, Metz and Trier, allowing participants the chance to discover the various fair trade engagements in which the QuattroPole cities are involved. The event in the Luxembourgish capital was hosted by Bruce Crowther, the founder of Fair Trade Towns.
Also present at the event were Mayor of Luxembourg-ville Lydie Polfer and later, at the conference "Just a label, What does fairtrade fashion really mean?" in Tramsschapp, Anjali Schiaviana, who is the founder and director of Mandala Apparels, a company manufacturing clothes in India exclusively using biological and Fairtrade cotton.