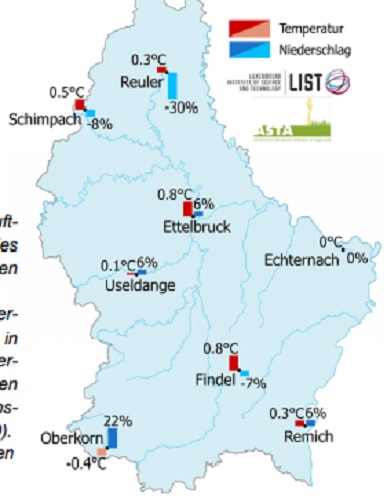 Credit: LIST
The summer of 2017 was mostly warm, especially in Luxembourg City, according to the latest weather bulletin released by the Luxembourg Institute of Science and Technology (LIST).
Whilst this past summer started off with rather varied weather with changeable air masses directed to Luxembourg, the second half of June was dominated by high pressure influence, which caused very warm weather.
In July, the risk of thunderstorms increased with the arrival of warm air masses. Indeed, by the third week in July, subtropical air arrived in Central Europe with a south-western current, which led to the stabilisation of the region with strong rainfall and thunderstorms.
In August, Luxembourg was under the influence of several gravure areas and in the last days of the month, the country heated up again due to high pressure.
The maximum air temperature recorded for summer 2017 was 35.7 ° C on 22 June in Ettelbruck. The 22 June 2017 was also the warmest day in June since the beginning of the records in 1947 at the Findel station which had a maximum of 35.4 ° C.
The measured precipitation sums were below the values ​​of the comparison period 2001 - 2010 at the stations Schimpach and Reuler (ASTA) and at the station Findel (MeteoLux) in the summer of 2017. At the Reuler station, as much as 30% less precipitation was measured. At most other stations, however, compared to 2001 - 2010, it was a bit more precipitous.
At the Oberkorn station, the highest rainfall of 285.2 mm (22% above the values ​​of the reference period) was measured. The precipitation at the Findel station shows considerable precipitation in July; with a precipitation of 118.8 mm, this was the 8th wettest month since records began. However, the summer rainfall did not compensate for the lack of precipitation in spring.