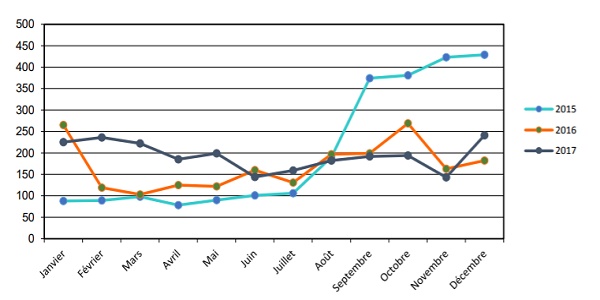 Last year, a total of 2,322 applications for international protection (asylum) were submitted to the Luxembourg Department of Immigration.
The number of asylum applications rose slightly from 2,035 in 2016 to 2,322 in 2017, but still represented a decrease compared to 2015 which saw the reception of 2,447 applications.
Regarding the countries of origin, Syria remained the country with most applicants (368), representing 15.8 % of all cases. In second place was Eritrea with 224 applicants (9.6%), followed by Morocco with 205 applicants (8.8%), Serbia with 190 (8.2%) and Algeria with 169 (7.3%).
The Directorate of Immigration made 3,186 decisions on international protection in 2017. This figure represents an increase of 867 decisions taken compared to 2016 when 2,319 decisions were taken. The past year was marked by a sharp increase in Dublin cases. Thus, 1225 decisions of incompetence were taken which constitutes an increase of 98.5% compared to the past year.